Running Past an Olympic Dream: Kyle Merber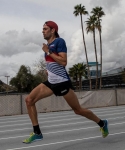 July 12, 2020
More than anything, the lockdown, in an odd and unexpected way, has led him to rediscover the joy of running.
By Scott Cacciola, The New York Times
On an overcast morning in late March, a few days after the International Olympic Committee announced it was postponing the 2020 Tokyo Games because of the coronavirus pandemic, Kyle Merber made the short drive from his home in Hastings-on-Hudson, N.Y., to the Dutchess Rail Trail, one of his favorite running routes.
Merber knew from the start, though, that this run would be different.
Since graduating from Columbia University in 2012, Merber had been chasing the singular goal of qualifying for the Olympics in the 1500 meters. Now, as he wrestled with questions about whether he had the psychological stamina and financial resources to continue training full time for another year — perhaps, he thought, it was time to retire — he slipped on his sneakers.
His plan was to cover 20 miles, which would make it his longest training run ever. He knew it seemed strange that he was increasing his workload when he had no real reason to increase his workload.
"I think part of it's therapy right now," he said. "It's what distance runners do: We run."
Merber, 29, was accompanied by his wife, Patricia Barry, who pedaled her bicycle through a cold drizzle as she filmed him for a video that his team later posted on YouTube. After he breezed through his opening mile, his pace quickened and he began to reflect.
"For the health of the world, it's obviously the necessary move," he said of the postponement. "But that doesn't mean it hurts any less."
Still, his mood brightened over the course of the morning. The run, which he would later describe as one of the best of his life, pushed him past 100 miles for the week — an arbitrary figure, but an achievement when so much else had gone wrong.
In the three months since, Merber's mind-set about his career as a runner has continued to evolve in ways he never could have anticipated.
For so long, Merber had tied his identity to the Olympics and to the 1500 meters: The Olympics were his dream, and the 1500 meters was his race. But in the wake of the Olympic postponement, Merber has learned to let go of those twin obsessions.
He now wants to focus on the 5000 or 10,000 meters, distances better suited to his strengths, and see where that road leads. And while he would still like to give the Olympics, rescheduled for next summer, one last shot, his goal of competing in Tokyo is no longer all consuming.
More than anything, the lockdown, in an odd and unexpected way, has led him to rediscover the joy of running — a shift that he revealed in a series of interviews since the start of the year.
"I decided to do something really new," he said. "I think the biggest thing is I got excited to train again. Maybe what I'd been doing for so long had gotten stale."
Continue reading at: nytimes.com