Returning champions Kampf, Lipari, Domanic headline Fleet Feet Liberty Mile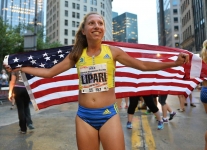 August 06, 2019
"One of America's most iconic races" in downtown Pittsburgh on Friday evening, Aug. 9, $23,000 Open purse; BBTM Grand Prix Tour 2019 third stop
From P3R
PITTSBURGH – The Fleet Feet Liberty Mile, downtown Pittsburgh's only evening road race, returns on Friday, August 9. Named "one of America's most iconic races" by Runner's World, this family-friendly "pop-up" running event will showcase a variety of fitness levels, from first-time runners to some of America's fastest athletes. This year's star-studded pro athlete line-up includes 4-time race winner Heather Kampf, defending men's champion Robert Domanic and 2017 winner Emily Lipari.
This "night at the races" will feature eight waves of runners starting with the recreational level and ending with the best Milers in the country. For the first time, the race will also feature a Virtual Mile that will inspire people to run their best Mile even if they can't make it downtown for the event. The race offers a $28,200 prize purse overall, one of the largest for U.S. Mile road races.
"This race – whether you're joining us downtown or running virtually from wherever you are located – needs to be part of your running bucket list," said Troy Schooley, P3R CEO. "It's short, fast and fun for everyone, regardless of your skill level or interest. After you cross the finish line, we hope you stick around to watch some of the nation's fastest Milers race to the finish in hopes of taking home the $5000 top prize."
On the women's side, race champions Lipari and Kampf are ready to dominate the streets of Pittsburgh again and battle for another crown. Lipari, 26, is the 2018 USA Road Mile Champion and has a track Mile personal best of 4 minutes, 28.84 seconds. She won the 2017 Liberty Mile in 4:35. Kampf, 32, who is known as the "Queen of the Road Mile," has won an astounding 28 road miles since 2011, including four Liberty Mile crowns. She also set the event record of 4:32 in 2013.
"The Fleet Feet Liberty Mile is always a highlight of my year, so it was so disappointing to miss it last year," Kampf said when asked about why she loves running in Pittsburgh. "I hope my return to a familiar course and my favorite fans will help bring out my best."
Challenging Kampf and Lipari will be rising star Rachel Schneider, 28, who recently set a Mile personal record of 4:20.91, the fifth fastest U.S. time on an outdoor track. In October, she will be representing Team USA in the 5000 meters at the IAAF World Championships in Doha.
Last year, Domanic won the Men's Pro Race in 4:01, beating out a field of top American runners in his debut road Mile. In 2019, the 24-year-old from Texas kept his momentum going and won the B.A.A. Invitational Mile and finished runner-up in the 1500 meters at the Payton Jordan Invitational.
"I'm excited to come back to Pittsburgh and defend my title," Domanic said. "The town and everyone involved in putting this race together are great. The Liberty Mile was the first win I had as a post-collegiate, so I'm excited to come back."
Domanic will face a packed field of seven fellow sub-4 minute Milers, including Pat Casey (3:52.62 PR), Riley Masters (3:55.80 PR) and Mac Fleet (3:56.77 PR).
The Fleet Feet Liberty Mile is also the third stop on the Bring Back the Mile Grand Prix Tour 2019. This year's Tour features five top U.S. Mile events, exciting racing action and overall prize money exceeding $110,000. Per Tour event per gender, top 6 will score points (10, 8, 6, 4, 2 and 1). Kampf, Lipari, Masters and Daniel Herrera are past Tour champions.
The men's event record is 3:59, set by Craig Miller in 2012 and Jordan McNamara in 2015. The women's event record is 4:32, set by Heather Kampf in 2013. With this year's fast pro fields, spectators may get their chance to see history made and records broken. See below for the men's & women's fields of the Pro Mile, presented by Fleet Feet Pittsburgh.

For more event information or to register, visit: LibertyMile.org