Queen Street Mile to Merge with Triathlon World Series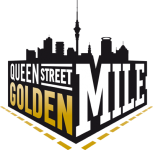 July 29, 2013
Mile legend John Walker's first and only Queen Street Mile was in 1982, which he remembers the downhill race as both "frightening and exciting"; event to benefit Walker's Find Your Field of Dream Foundation
From TVNZ.co.nz
The Queen Street Golden Mile will become part of the program for next year's ITU Triathlon World Series in Auckland, New Zealand.
The Mile was re-introduced this year, while the triathlon has been held in Auckland for the past two years.
Organizer and CEO of Upsolut Sports Oceania Ltd Dave Beeche says it's a logical merger.
Beeche says operationally it makes sense, since both events need to shut down the same stretch of road.
"We think it makes strategic sense for both Find Your Field of Dreams (FYFOD) and us to maximize the entertainment value and the excitement of bringing two fabulous sporting events to Downtown Auckland over one action-packed weekend," Beeche said.
Mayor Len Brown has welcomed the move, saying: "What this does is bring together two keynote sporting events which should prove hugely popular from a public view perspective while at the same time ease disruption for retailers, shoppers and residents in the city center.
"It reinforces Auckland's growing reputation as an events capital. We've already been voted second world sports capital behind London. This is another feather in our cap.
"The event also will benefit the amazing, ongoing work of Sir John's Find Your Field of Dreams Foundation with kids across Auckland."
The Mile races will be run in between the women's and men's elite triathlons on Sunday, April 6, 2014.
Continue reading at: http://tvnz.co.nz