Prakel, Lipari win USA 1 Mile Road titles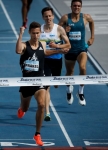 August 29, 2020
Three men go sub-4; Lipari sets national championship record
Report from USATF
DES MOINES, Iowa – At a rare 2020 USA Championship, thanks to the Drake Blue Oval Showcase presented by Mediacom, Sam Prakel and Emily Lipari won USATF 1 Mile Road Championship crowns, clocking 3 minutes, 58.3 seconds and 4:29.3 respectively on a point-to-point course that finished on Jim Duncan Track inside Drake Stadium.
In the men's race, Abe Alvarado (Atlanta, Georgia) led a tight pack into Drake Stadium and stayed in front through the first 300 meters on the track before a trio of Joe Klecker (Boulder, Colorado), Colby Alexander (Strongsville, Ohio) and Sam Prakel (Seattle, Washington) surged past him. Heading into the final stretch that trio were within a stride of each other before Prakel surged to the front and ran away to win in 3:58.3, covering the final 400m in 53.4. Alexander was a half-second back in 3:58.8, while Klecker also dipped under 4 minutes with a 3:59.0 in third. Defending champion Tripp Hurt (Boulder, Colorado) finished fourth (4:01.2).

In the women's race, Emily Lipari (Washington, DC) and Marisa Howard (Boise, Idaho) pulled the pack through the first quarter in 69.0 and had a 5 meter lead going behind Drake Stadium. Howard was first into the stadium, followed closely by Lipari with the rest of the chase pack 15 meters behind. Lipari passed Howard with 200 meters to go and went unchallenged to win her second title in three years with a 4:29.3, covering the final circuit in 63.0. Howard had her best performance in a national championship race, securingng second in 4:31.1, and Megan Mansy (Pleasantville, New York) took third in 4:32.0.
Prakel, 25, produced his first national title, while Lipari, 27, who also set a national championship record, earned her second road Mile title (also 2018). Each national champion pocketed $3000.
USATF 1 Mile Road Championships
Hosted by Blue Oval Showcase presented by Mediacom
Des Moines, IA, Saturday, August 29, 2020
MEN
1) Sam Prakel (WA), adidas, 3:58.3, $3000
2) Colby Alexander (NY), HOKA NJ-NY TC, 3:58.8, $1000
3) Joe Klecker (CO), On Athletic Club, 3:59.0, $500
4) Tripp Hurt (CO), Team Boss, 4:01.2, $300
5) Jake Edwards (OH), Columbus RC, 4:01.8, $200
WOMEN
1) Emily Lipari (DC), adidas, 4:29.3*, $3000
2) Marisa Howard (ID), RUJA, 4:31.1, $1000
3) Megan Mansy (NY), HOKA NJ-NY TC, 4:32.0, $500
4) Alli Cash (WA), Ravenna TC, 4:33.3, $300
5) Katie Mackey (CO), Brooks Running, 4:36.0, $200
*USA Championship record (previous record, 4:29.7, Nikki Hiltz (CA), Grand Blue Mile 2019)
Complete results HERE.
PHOTO CREDIT: Brian Powers/The Register