Olympian Favor Hamilton finds true gold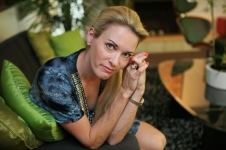 July 21, 2012
As she took center stage no one knew what was going on inside her.
By Gary D'Amato, Journal Sentinel
The finish line was 200 meters away. She just had to hold on for 30 more seconds and the gold medal would be hers.
Suzy Favor Hamilton had trained her entire life for this moment. She'd made it her mission to win Olympic gold to honor the memory of her late brother, Dan, who had committed suicide. Smiled that Suzy smile. Told everyone she was going to "do something big" for him.
In two previous Olympic Games, the great middle-distance runner from Stevens Point had failed to win a medal. But this was different. This was for Dan. She'd never pushed herself harder, never been in better shape.
Now, her goal was within reach. On a hot night at Sydney Olympic Stadium, on the other side of the world, she led the 1,500-meter final at the 2000 Olympic Games.
Continue reading at: jsonline.com