Olympian Favor Hamilton finds true gold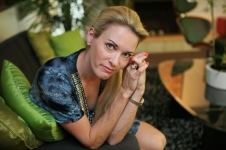 July 21, 2012
As she took center stage no one knew what was going on inside her.
By Gary D'Amato, Journal Sentinel
The finish line was 200 meters away. She just had to hold on for 30 more seconds and the gold medal would be hers.
Suzy Favor Hamilton had trained her entire life for this moment. She'd made it her mission to win Olympic gold to honor the memory of her late brother, Dan, who had committed suicide. Smiled that Suzy smile. Told everyone she was going to "do something big" for him.
In two previous Olympic Games, the great middle-distance runner from Stevens Point had failed to win a medal. But this was different. This was for Dan. She'd never pushed herself harder, never been in better shape.
Now, her goal was within reach. On a hot night at Sydney Olympic Stadium, on the other side of the world, she led the 1500 meter final at the 2000 Olympic Games.
Two hundred meters. Thirty seconds.
Hold on. For Dan.
No one in the world knew what was going on inside her. Not her coach, Peter Tegen. Not her husband, Mark Hamilton. She couldn't tell them, couldn't tell anyone that she had gone to the starting line that night distracted and full of self-doubt, anxiety sapping what little energy she had left for the grueling race ahead.
The first two rounds had taken too much out of her. She had run the fastest 1500 in the world just weeks earlier, but she weighed 104 pounds. She was not built for the Olympic format of three rounds. She was a gazelle, not a workhorse.
Still, Favor Hamilton fought her way to the front of the pack not once but twice, using the last bit of strength in her body.
For Dan. Hold on.
Two hundred meters. Fear crushed the wind from her lungs. She was hyperventilating now, gasping for air. Thirty seconds. Her legs turned to rubber, then to lead. She broke form, looked almost spastic, like she was swimming for the finish line, now 125 meters away.
Panic gripped her. She was not going to win the race. Runners started passing her. One, two, then five. The disappointment, no, the shame, was more than she could bear.
"There was nothing positive going through my brain," Favor Hamilton says, 12 years later. "Coming around that (last) corner the anxiety gripped me so bad. It told my brain, 'Just fall. That's the easiest solution. Just fall, and this all will go away.' That was the only way out."
So she took a dive, tumbling to the track in a heap.
Continue reading at: jsonline.com