Olympian Ben Blankenship has bounced back big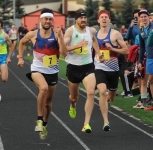 September 15, 2017
"I always want to finish a race knowing I worked as hard as I could. That I did everything I could, and I couldn't have done any better."
By Doyle Woody, Alaska Disptach News
Ben Blankenship is a 2016 Rio Olympian and a national champion Miler, a Nike-sponsored athlete who competes in Diamond League international meets that draw the world's best track & field athletes and have taken him around the globe.
In the last week, he's raced back in his home state in Duluth, Minnesota, and at the 5th Avenue Mile in New York City.
This week, Blankenship's in Alaska on an expenses-paid trip for two races. He and his buddies who raced in Wednesday night's Great Alaska Mile Series before 1,000 or more adoring fans at the West High track have planned a run in the Chugach Mountains for Thursday. There's a fishing trip on the docket Friday in Kodiak ahead of Saturday's Mile on The Rock.
So, yeah, life's pretty good. Blankenship's doing what he loves. He's using his gift. He's traveling the world.
Continue reading at: adn.com