On historic night of running, two break sub-4 minutes in the Mile in Anchorage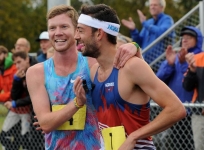 September 14, 2017
"It's great to see these athletes up here, especially so the younger kids can see it and get some inspiration. It's nice exposing them to athletes of this caliber."
By Beth Bragg, Alaska Dispatch News
Fourth place has never felt better for Trevor Dunbar.
Dunbar, the only Alaskan to break the 4 minute mark in the Mile, returned home this week determined to make more history.
Intent on seeing track's most hallowed barrier broken on Alaska soil, he recruited some fast friends to come along and help.
On Wednesday night at West High in Anchorage, in front of a roaring crowd and despite difficult conditions, two men, in the field of seven elite runners, recorded sub-4:00 minute Mile times and a third man missed the magic milestone by two one-hundredths of a second.
Dunbar wasn't one of them. He was fourth in 4:02.21, well off his personal best. But he provided a big assist to the guys who finished ahead of him — winner Kyle Merber of Hastings-on-Hudson, New York (3:59.36), Rio Olympian Ben Blankenship of Eugene, Oregon (3:59.67) and Colby Alexander of Tarrytown, New York (4:00.01).
Continue reading at: adn.com
Alaska State Mile Guide HERE.