Moscow 1980 and two brilliant careers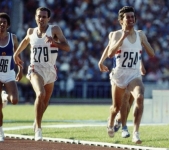 November 25, 2016
Mile legends earned unofficial billing as the "Coe vs. Ovett Olympics"
By Jamie Fuller, InsideTheGames.biz
Long before Sebastian, Lord Coe, hit the giddy heights of presiding over London 2012 and then taking over as grand pooh-bah of the International Association of Athletics Federations (IAAF) from Lamine Diack, he was a middle distance runner. A very good one too, particularly his 1500 meter run at the Los Angeles Olympics.
But as happens - although relatively rarely - there was someone else of his generation, from the same country, who was every bit as good as him: Steve Ovett.
Just as Carl Lewis & Ben Johnson were chalk and cheese in personality and background, so were Coe & Ovett.
Coe was from a privileged background, Ovett was from a more modest one. Coe was short and assured, Ovett was tall and gangly. Coe was from the north, Ovett from the south. Coe was comfortable and relaxed talking with media, Ovett was uncomfortable and prickly. And because they were compatriots, the people of Britain tended to fall into either being a Coe supporter or an Ovett supporter.
The later Mile legends first raced as teenagers in a schoolboys' cross country championship in 1972. The 16-year-old Ovett came second with the 15-year-old Coe third. (NOTE: The schoolboy who won that day didn't pursue an athletic career; he became a teacher).
Continue reading at: www.insidethegames.biz