Mile race can weigh heavy on the mind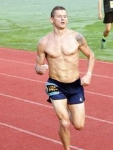 August 17, 2017
Managing these two systems is what makes racing the Mile so scary and hard.
By David Yon, Tallahassee Democrat
In a matter of minutes…
I admit it. I took the easy way out. I reached down into my bag of excuses and surrendered before I stepped on the track. Saturday mid-August belongs to the Mile race on the track in Tallahassee.
For many, it is the scariest race of the year. On Saturday, Charley Johnson and Katie Sherron (almost exactly one year after the birth of her son Barrett) had winning strategies for the 20th running of Breakfast on the Track. My strategies were don't aggravate any injuries and don't forget you have not prepared for this race. It was still great to be out there.
In 1998 with a lot of encouragement from runners who wanted a Mile race on a track, Bonnie and Felton Wright, with the help of 4-year-old son Jamie Wright, conducted the first Breakfast on The Track Mile Race. Saturday was the 20th time Felton and Bonnie have done so. Jamie (now 24 years old) did some crazy stuff, like going off to college, and missed a few years directing, but these days he is back in town and part of the production team. (And he beat me by 22 seconds.) Maclay School has been the most gracious host of this event every year it has been run.
Continue reading at: www.tallahassee.com