Mile Moment of the Month: First prep sub-4 Mile indoors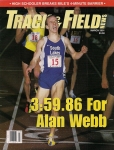 January 05, 2015
HOKA ONE ONE presents the Mile Moment of the Month
By Bring Back the Mile
Until January 20, 2001, no prep athlete, including teen phenom Jim Ryun, had broken 4 minutes for the Mile indoors. At the 2001 New Balance Games in New York City, the newest U.S. teen Mile star Alan Webb from Reston, VA made history by clocking a 3:59.86 to become the first prep to break 4 minutes under the roof.
Webb, who had just turned, 18, entered the meet quietly as his coach, Scott Raczko, had asked the organizers not to publicize his protégé's attempt to make history.
The hopeful, yet confident Webb followed rabbit Lorris Adams for the first 880 in 1:59.5 and then Kenyan Leonard Mucheru's slipstream in the final laps. When his 1320 split of 2:59.9 was announced, the Armory crowd went into a frenzy to help pull Alan to the coveted sub-4 standard.
Mucheru continued unchallenged to the tape in 3:57.90 with Matt Holthaus just edging Webb, 3:59.74 to 3:59.86, but Webb was the young man of the hour as he shattered Thom Hunt's 1976 indoor record (4:02.7) by nearly 3 seconds. In addition, Webb was the first U.S. teen sub-4 since Marty Liquori in 1967 and the fourth overall behind Ryun – 1964, Tim Danielson – 1966 and Liquori.
Post-race, he thanked and credited the pacesetter Adams and winner Mucheru as well as the crowd for its rabid support, and later, the history-making teen recounted to Track & Field News: "After each lap, I was sort of like, 'OK, everything's still going'. With each lap it became more and more real until one or two laps to go it was: 'Wow, this it; here we go'."
To-date, Webb, a 2004 Olympian and current U.S. Mile record holder: High School (3:53.43) and Open (3:46.91), is the only U.S. high school athlete to run sub-4 indoors. En route, he also set the HS indoor 1500 meter record (3:43.27).
Related Articles
Below is the historic and thrilling race video: