Meet the Miler: Craig Engels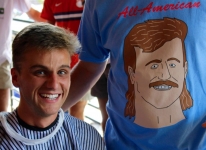 August 24, 2018
NIKE Oregon Project athlete returns to the birthplace of Rock 'n' Roll on Saturday evening to defend his Ed Murphey Memphis Mile title
By David Monico, Bring Back the Mile
Craig Engels has been described as a wanderer. He has displayed one of the best mullets (and mustaches) that you'll come across. He's also one of the best Milers in the world, sporting a 3:53.93 PR. The Pfafftown, North Carolina native, who now calls Portland, OR home, almost left the sport two years into his stint at NC State where he struggled to return from injury. However, he found his footing in Oxford at the University of Mississippi where he became one of the top middle distance talents in the country landing post-collegiately at NIKE's Oregon Project (NOP) joining Rio Olympic gold medalist Matthew Centrowitz and a slew of other world beaters.
Engles returns to the Ed Murphey Memphis Mile on Saturday evening, August 25, the fourth stop on the BBTM Grand Prix Tour, to defend his 2017 title where he clocked 3:58.35, the first sub-4 ever in Memphis. He is coming off of another title that he defended last Saturday, the Aetna Falmouth Elite Mile. We sat down with Engels as he came off the links in his hometown to discuss Mile races in the United States, the business of Track & Field, his dream gig, the NOP and of course NASCAR.
BBTM: Where are you right now? Already in the Memphis area?
Craig: I'm actually at my parents' house, using it as my east coast base for all these Miles.
Let's start with Falmouth. You obviously won, but how did it go down?
It went pretty well (laughs). I love the American Mile events. Every single one of them. You have host families and good energy on the track. Everything is so cool about it.
I was racing all over in Belgium where there is 10 people in the stands and people trying to run the equivalent to 3:50 in a Mile and to do that I need some hype. I need some fans. I need something. My prayers were answered at Falmouth (pictured below). There's an awesome crowd, a good field, everything was put together well and I finally won a race this year!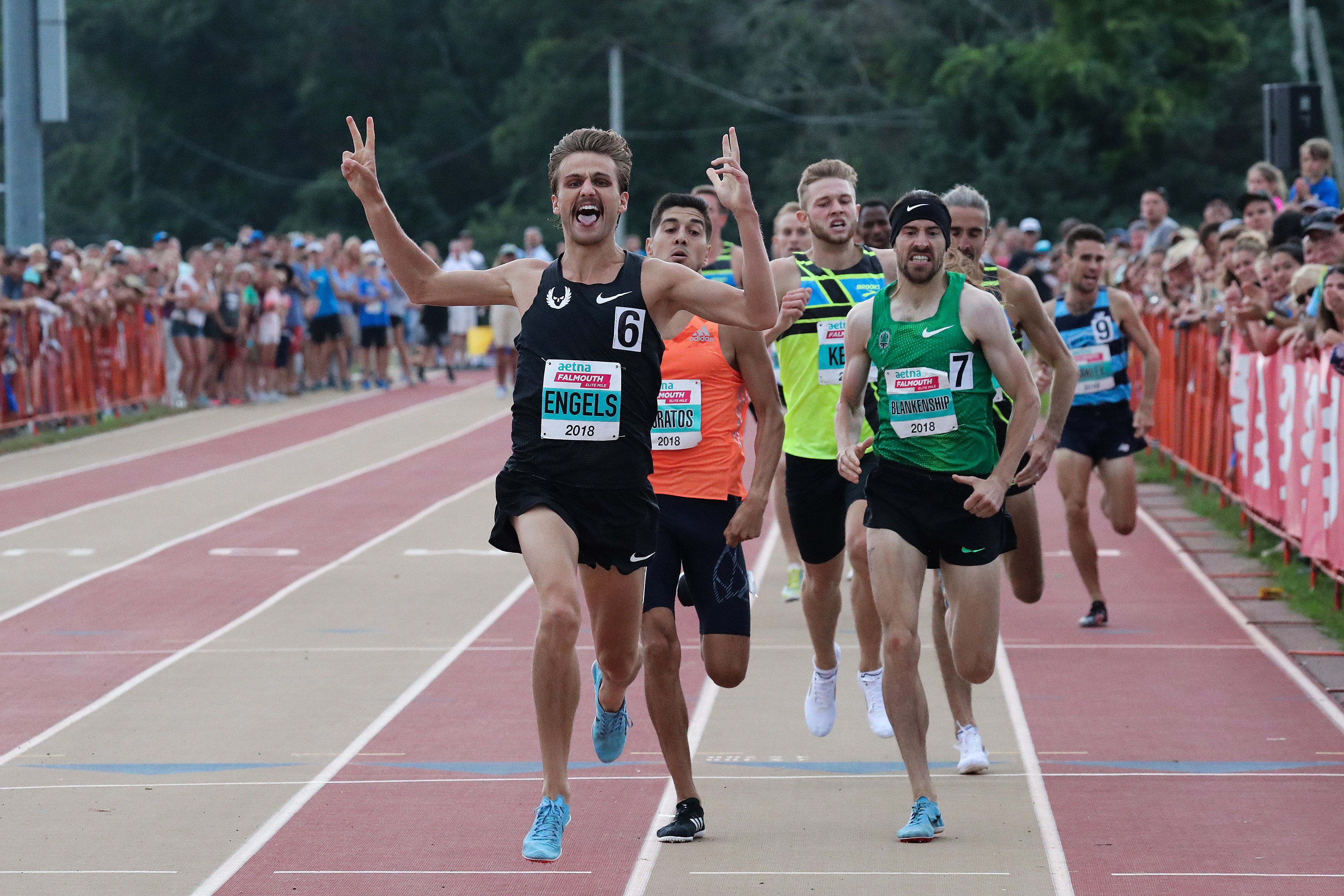 Let's dig into the Belgium scene a little bit. Alan Webb set the American record in Belgium to a small crowd. Why are Milers not staying in the U.S. besides the fact that traveling around Europe is fun to do?
If it wasn't for the Diamond League I wouldn't need to go at all. There isn't a major draw to run around the same time, like 3:36, 3:37, that we couldn't do in the United States. Every race is just bunch of U.S. guys anyways. Why do we fly thousands of miles and spends thousands of dollars to race each other? But, it's all in the hopes of getting into a Diamond League meet. If you're on that path or train with guys on that path I'm for it.
I just follow what my coaches tell me to do (laughs). 'Go run in Switzerland, Craig. You may run 3:30 or you may run 3:40.' I'd rather take the chance to stay in the United States and fly out prior to a Diamond League meet if given the chance.
What can we continue to do the U.S. to encourage event directors to host meets in the U.S. during the summer and keep Mile athletes here?
For everyone involved, as with professionals in almost any career, money is a big part of it. If I can win $5000 in the U.S. and over in Europe I'm winning £150 if you run 3:35, I'm gonna stay in the USA.
The TrackTown Summer Series also had something going for it. It was like watching the NBA Playoffs with fans being able to follow a series. Maybe it's just that at this moment in the U.S. running isn't that popular for television. Down the road we need to have a series like the PGA Tour.
However, we do have such a huge fan base or at least a large group of people who participated in Track & Field at some point in their life, but it really doesn't translate to media attention or sponsorship, etc. Why do you think that is?
It's actually pretty cool to look at and I'm getting my Masters of Business so that I can have a different mindset of what Track & Field needs to do to market itself better. I keep coming back to one thing and it's that Conor McGregor, Tiger Woods personality. We need a big personality that's interesting. We have interesting athletes, but it's hard to capture their background and show it to the general public. It's hard for people to have a backstory if we have no platform to stand on.
My friend Brandon Hudgins has Vasculitis and he's gone through chemo and he broke 4 minutes in the Mile. If we could that type of story on national television people would pay attention.
Without taking on a comprehensive research study, I've felt that our sport has a large amount that have gone to have successful professional careers and life in general. You've been described as a wanderer or a nomad as have many runners before you. What is it about runners that you can both be a wanderer and highly disciplined? Do you consider yourself a nomad?
Two of my teammates and I love RVs. We've had this dream of getting a group together where we would live in our RV and travel around the country and host post pop-up Miles. The RV or bus would be wrapped in Nike, it would just be sick and we could show off products and everything; it would be cool, which I guess is the definition of a nomad.
Or a savvy marketer.
Yeah (laughs).
Where are you going to Business School?
I started at Ole Miss and now I'm completing it online. I have 27 hours of credits left and I think I'll graduate right before Tokyo 2020.
The Olympics would be a nice graduation gift.
Yeah (laughs). I'm taking it slow with the program since I don't want to lose focus on running.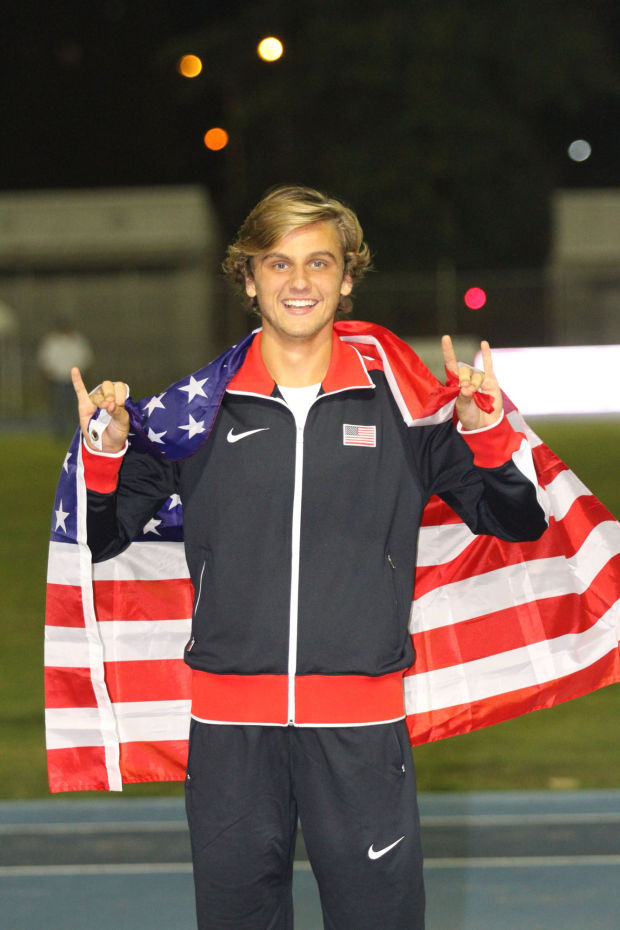 You represented Team USA at the 2013 Pan American Junior Games and won gold in the 1500m there. If you can go back five years, what's it like to represent the United States?
I remember it was just the coolest thing in the world because I had seen all the Olympians the year before. I saw the exact jersey that I was wearing. I remember thinking, "This is so cool". It was probably one of the best experiences in my life, and I remember telling my mom, "Well, if I never get better, I've done enough in running".
Well, you've gotten a little bit better, so that's good.
Fortunately, yeah (laughs).
What's it like being around athletes that have competed at the highest levels internationally? What's an early or lesson or two you've taken away?
It's cliche to say, and everyone does say it, but you have you to do what works for you. And whether that means, Centro, Eric Jenkins and I are on the track at the same time doing different workouts, do what you gotta do. Sometimes it sucks.
Everyone also always asks what mileage we do. Sometimes we'll do 30, sometimes we'll do 80. It's whatever works at the given time and you have to do what works for you.
It seems that you were and are really close to your former teammates at NC State and Ole Miss. Do you have a similar sense of camaraderie with the NOP?
Actually, yeah. I just finished up my first altitude stint and Eric, Matt and we were together for four months. I'd safely say that those two guys are some of my best friends now. Clayton Murphy is awesome, but he doesn't do altitude so we didn't see him much. With Eric and Matt we have the same sense of humor; it's actually really good chemistry.
When I was at NC State and I wasn't running my best, getting discouraged, Coach Geiger sat me down and said, 'Craig, I want you to watch every single race of this guy on YouTube.' I didn't know who he was, and a week later I'm telling my teammates, 'You guys, I've been watching all these Matt Centrowitz races and he's super good!' It's funny now that we're teammates and he's the guy I learned who to race from.
Let's move off the track for a bit. You've been golfing a bit on the east coast. What interests you these days when you're not running?
Actually I golfed again today (laughs). As a runner, when people ask, 'What do you do all day?', it's easy to respond with 'I don't know'. Whenever I'm been back at home, I just hang out with my friends every day. We're always outside doing something. I haven't actually sat down and chilled, which I probably should do before this next race in Memphis.
Are you still a NASCAR fan or does that just come with the territory being raised in North Carolina?
When I was a kid, I was a massive Jeff Gordon fan. He had a lake house on the same lake where we used to go with our boat. My dad and I would sit down on the couch, he'd crack a cold one, and we'd just watch 500 laps, waiting for a crash (laughs). But no, I haven't watched much NASCAR since I moved to Portland (laughs).
What are you driving right now, in Portland?
I have two cars in Portland; one of them is a 2008 Subaru.
You have to have a Subaru in Oregon.
Yup. And the other one is a 1971 Chevy El Camino, baby. I've been looking to buy an RV out there; a Toyota Dolphin. When I win enough prize money in these next couple of races, I'll look into it.
OK, back to the track. What's the difference between running a 1500m and a Mile? What they mean to you.
First off, that extra 109 meters sucks (laughs). Mentally to me the 1500m is so much easier. That first lap goes by and you're like, 'Oh I only have three left'.
I don't even say 1500 around my family and friends. If I ran a 3:36, I just say I ran like a 3:53 or 3:54 in the Mile. If you say anything under, let's say 4:10 in a Mile, they're in disbelief, but a sub-4 and they know anything about running, then they're like, 'Wow, that's crazy'.
What is your favorite Mile race?
You can't do this to me (laughs). As far as crowds go, I've never seen more people than Sir Walter. As far as prize money and atmosphere, I think the Memphis Mile (pictured below) was one of the best. The JDL Camel City Indoor Mile was sick, but Cheserek kind of ruined that one for me (laughs). If you want to run super fast, you go to Boston Indoor. Each one has their own defining characteristic.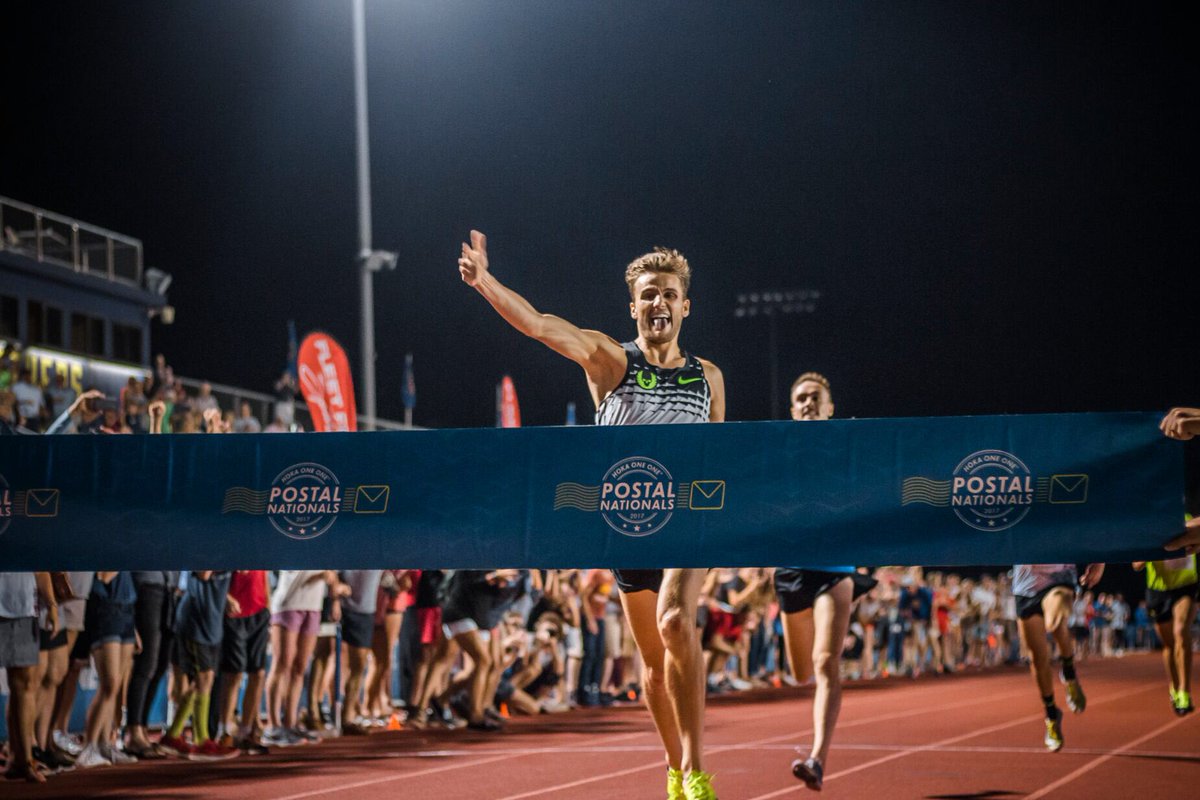 Do you have a race that you've learned the most from?
I don't really dwell on races that hard. I usually just base my confidence off of the last couple races and my training. I guess the one I learned the most from was USAs last year losing by .01. One, I lost a lot of money. Two, I lost the chance to represent the United States, and then three, I lost a lot of confidence. You just have to build and learn off of that.
Anything you're bringing to Memphis that we should be promoting? Do you have a new fur coat? A special mullet for the fans?
I've been traveling with the same stuff for four months; I haven't even been back to Portland. I'll look around, my mom usually has some good stuff sitting around; maybe I'll bring something (laughs).
Thank you and good luck this Saturday in Memphis, Craig.
Thank you so much.