Matthew Centrowitz Sets Sights on Winning Worlds, Racing Longer Distances at Next Two Olympics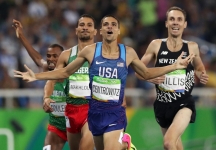 February 13, 2017
"Obviously I would like to get back on the podium. And I would like to win the World Championships. I have to get more fit, get back to training after this indoors season and raise my training up another level."
By Lynn Rutherford, TeamUSA.org
NEW YORK -- The buzz started as soon as Matthew Centrowitz announced he would race the 2-Mile at the 110th Millrose Games: Could the Olympic 1500 meter champion challenge the American record of 8:07.41, held by Galen Rupp?
Centrowitz — who calls the Armory, venue for the prestigious New York City event, a "second home base" — opted to skip the storied Wanamaker Mile, which he had won the last two years, in favor of a longer distance.
"I'm kind of looking for new challenges," Centrowitz said at a pre-event press conference two days before the Saturday event.
"Not every day I get to race Ryan Hill, Moh Ahmed, [Andrew] Butchart — who is running unbelievable right now — Donn Cabral, Ben True, all these guys that are primarily 5K guys," he added. "After Rio, it's kind of a letdown. This is something that made me excited to train for and excited to put on the schedule."
Continue reading at: www.teamusa.org