Louis Zamperini's Epic Life May Finally Get Its Hollywood Movie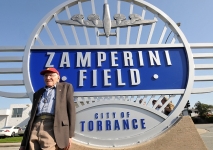 January 25, 2013
By Donna Littlejohn, Los Angeles Daily News
Talk about a made-for-Hollywood plot.
Encompassing the sweep of the 1936 Berlin Olympics, 47 days adrift in the Pacific evading sharks and the jarring brutality of two years in a Japanese POW camp, it's a story that plumbs the depths of one man's courage, despair and rage, soaring ultimately into a vision of good overcoming evil.
And, remarkably, it's all true.
Ever since the life story of Torrance Olympic runner Louis Zamperini was so masterfully told in Laura Hillenbrand's 2010 runaway best-selling book "Unbroken," there's been a renewed push to get the story onto the big screen.
"It's going to take a couple of geniuses to sort it all out," Zamperini said in a telephone interview from his home of 56 years in the Hollywood Hills. "I'm pretty old and I've had a life that's unbelievable."
Continue reading at: dailynews.com