Lagat, Cain Headline NYRR Wanamaker Mile 2015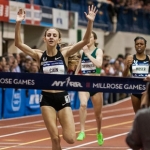 February 02, 2015
108th NYRR Millrose Games, set for Saturday, Feb.14, draws stellar international fields with past champions for storied race
NEW YORK — Eight-time champion Bernard Lagat of Tucson, AZ, and New York native and defending champion, Mary Cain, 18, of Portland, OR, will star in the NYRR Wanamaker Mile at the 108th NYRR Millrose Games on Saturday, February 14, it was announced by Mary Wittenberg, president and CEO of New York Road Runners. Lagat will chase his ninth event victory and the Masters indoor world record of 3:58.15 against defending champion Will Leer of Marina Del Rey, CA, and 2012 race champion Matthew Centrowitz of Portland, OR. Cain, racing in front of her hometown crowd, will face three Oregon Project teammates—Shannon Rowbury, Treniere Moser and Jordan Hasay, all of Portland, OR—in an attempt to become the first woman since 2009 to win back-to-back NYRR Millrose Games titles at the distance.
"NYRR is a proud partner of the Armory and is once again excited to support this wonderful New York City time-honored track & field tradition," said Wittenberg. "The NYRR Wanamaker Mile is renowned for its history of great athletes and memorable races. Bernard is one of the most distinguished runners in American history, the master of the NYRR Wanamaker Mile and a New Yorker at heart. We also welcome home Mary to the iconic track that launched her early career success and now has her poised to become one of America's great track & field stars. Bernard and Mary lead two incredibly talented NYRR Wanamaker Mile fields that provide inspiration for people of all ages to get moving and dream big."
Lagat, 40, is the king of the NYRR Wanamaker Mile with a record eight titles in ten attempts, recording six consecutive victories from 2005 to 2010. The 2011 NYRR Fifth Avenue Mile champion's decorated career is highlighted by podium finishes at 13 global championships, including five IAAF World Championship titles, an Olympic 1500m silver medal in 2004, and an Olympic 1500m bronze medal in 2000. The four-time Olympian holds six individual American records—three indoor (1500 meters, 2000 meters, 3000 meters) and three outdoor (1500 meters, 3000 meters and 5000 meters); he set the 2000m record at last year's NYRR Millrose Games.
"I am extremely excited to race another NYRR Wanamaker Mile in front of some very loyal New York fans," said Lagat. "New York has been great to me. The energy I get from the crowd pumps me up like it's my first professional race! This year's race will be challenging, but I'm up for it. My training has been going well, and I'd like another win. While eight is great, nine would suit me just fine!"
Lagat will be targeting the Masters indoor world record of 3:58.15, held by Ireland's Eamonn Coghlan, the previous record holder for the most NYRR Wanamaker Mile titles, with seven; Lagat took ownership of the record with his eighth win in 2010. In addition to Leer and Centrowitz, Lagat will also face 2008 Olympic 1500m silver medalist Nick Willis of New Zealand, who lives in Ann Arbor, MI, 2012 Olympic 1500m silver medalist Leo Manzano of Austin, TX, 3000m steeplechase U.S. record holder Evan Jager of Portland, OR, and the University of Oregon's five-time NCAA champion Edward Cheserek of Kenya, who lives in Newark, NJ.
"I see Mr. Eamonn Coghlan as one of the all-time greats in track and field, so I don't think about breaking his records," said Lagat. "He made the records and broke the boundaries for people like myself to follow. Age is only a number, and he made us all believe it. I'm still listening and learning."
Growing up just north of New York City in Bronxville, NY, defending NYRR Wanamaker Mile champion Cain is the reigning World Junior champion at 3000 meters; that victory last year made her the first American athlete ever to medal at the World Junior Championships in a race 1500 meters or longer. The 1000m World Junior record holder also holds four national junior records: outdoor 1500 meters and indoor 1500 meters, Mile, and 2 Miles. In 2013, she became the youngest American to represent the United States at an IAAF World Championships and the youngest athlete ever to qualify for an IAAF World Championships 1500m final; she finished 10th in that race. As a student at Bronxville High School, she set multiple high school national records and became the first high school female to break the two-minute barrier in the 800 meters.
"I am extremely excited to be returning for this year's NYRR Millrose Games," said Cain. "It's always fun to run on my home track, and even more exciting to have the chance to defend my title! The Armory always has the best crowd because I know that it's always filled with my friends and family."
The women's and men's NYRR Wanamaker Mile will start at 7:20pm and 7:53pm, respectively. Last year, Will Leer won the men's race with a time of 3:53.48 and Mary Cain won the women's race, clocking 4:27.73.
The NYRR Millrose Games, part of the USATF Championship Series, will be presented live on NBCSN from 6:00pm to 8:00pm EST, featuring the NYRR Wanamaker Miles, the girls' NYRR Fastest Kid on the Block, and more. Fans can also catch the excitement on the live webcast all day beginning at 2:00pm EST on USATF.tv. Tickets to attend the NYRR Millrose Games, which will take place in New York City from 1:30pm to 8:00pm at the Armory (216 Fort Washington Avenue), can be purchased on the event website at www.nyrrmillrosegames.org.