Kerr kicks for World 1500m title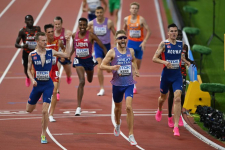 August 23, 2023
"For me, this is the be-all-and-end-all. You saw about 16 years of emotion at the end there. You just watched a kid achieve a dream that he has been having for a very long time."
By Simon Turnbull for World Athletics
When the television cameraman came to Jakob Ingebrigtsen as the 12 contenders gathered on the start line for the men's 1500m final at the World Athletics Championships Budapest 23, the Norwegian prince of the middle distances gave a cool smile and held up an index finger.
#1 all season, having regained his armour of invincibility following his shock defeat in last year's World Championships final in Oregon. Surely it was time for the Olympic champion to add a first World 1500m title to his first class CV?
It was difficult to tell what Josh Kerr was thinking, with a quarter of his face shielded by giant shades, but his serious demeanour suggested he was ready for business. He made no response when his name was announced, other than to utter words of encouragement to himself.
Given the compelling drama that unfolded over the ensuing three and a half minutes, what the 25-year-old Briton was clearly thinking, if not shouting out loud to the world, was: "Let's do a Jake."
Two years ago in Tokyo, Kerr showed his pedigree, taking a brilliant bronze medal behind the imperious Ingebrigtsen and the Kenyan Timothy Cheruiyot. When it came to the crunch in Oregon last year, though, he had a rear-hand view of the drama, finishing fifth as Jake Wightman seized the day with a tactical masterclass that undid Ingebrigtsen for the gold.
Thirteen months on, with his British teammate, fellow Scot and Edinburgh AC clubmate on the injured list, looking down from the television commentary positions, Kerr proceeded to produce a carbon copy carpe diem performance.
As the field entered the home straight for the first time, Ingebrigtsen was lying in second, on the shoulder of Kenya's World U20 champion Reynold Cheruiyot. He moved into the lead with 550m to go, USA champion Yared Nuguse up into third.
The watching world may have been waiting for the expected coronation procession to unfold, but not Kerr.
Having kept his powder dry, he moved through the field to second, looking like a man on a serious mission. Down the back straight on the final lap, he gathered himself for an attack as Ingebrigtsen wound up the pace.
There were gasps from the crowd as Kerr moved alongside with 180m remaining. Like Wightman before him, the Edinburgh man had the glint of gold in his stride. Like the champion of 2022, he had the grit, too.
Halfway round the final turn, Kerr started to edge past Ingebrigtsen, at precisely the same point that Wightman had. Rounding into the home straight, he clenched his teeth in indomitable determination. Once he had got his nose in front, he kept it there, gaining a decisive gap 30m from the line.
All the way up the home straight, Ingebrigtsen looked like a man suffering from an acute case of deja vu. His head dropped in resignation as the line approached.
As in the 1500m final at last year's outdoor World Championships – and, indeed, at the World Indoor Championships in Belgrade, where he had no answer to the searing finishing pace of Ethiopia's Samuel Tefera – Ingebrigtsen knew he was going to have to settle for a World silver medal once again at his favored distance.
Unlike Kerr. He took off his shades as he crossed the line 0.27 clear in 3:29.38, a season's best. The joy in his eyes was unbounded. He beat his fists against the Great Britain wording on his chest and pointed to his brain.
Like Wightman in Oregon, he had worked out in his head exactly how to pierce the Ingebrigtsen armor: to apply the pressure when it mattered and strike at the right time, too. Kerr covered the last lap in 52.77, Ingebritsen 53.76.
Such was the favorite's sense of deflation, he was almost caught by the other Norwegian in the field. Narve Gilje Nordas, coached by Ingebrigtsen's father, Gjert, finished 0.03 behind his celebrated compatriot in 3:29.68. His last lap was the fastest of all, 52.61.
It took him into a podium position – ahead of Kenya's Abel Kipsang, fourth in 3:29.39, and Nuguse, fifth in 3:30.25.
Fittingly, Sebastian Coe stepped on to the track to hand Kerr his golden reward. The President of World Athletics might have been jinxed to never grace the World Championships stage but, with his two Olympic golds and his manifold world records, is undisputedly one of the all-time greats of the 1500m and the Mile.
Steve Cram, having taken the inaugural crown in Helsinki 40 years ago, and Wightman the last one, Kerr became the third British runner to rule as the 1500m World champion.
"Those last moments of the race will be engraved on my brain for a very long time," he reflected. "I knew I had him with about 50 meters to go.
"I ran that last lap as well as I could and today it was all heart, all guts and remembering all the really hard yards it took me to get here. It's very hard to be the favorite and Jakob has a million things going on with world record attempts and multiple events.
"For me, this is the be-all-and-end-all. You saw about 16 years of emotion at the end there. You just watched a kid achieve a dream that he has been having for a very long time.
"I put together a fantastic last couple of months and everything has been going in the right direction. I just had to get it right on the day. I'm so proud that I did. On the start line I was so confident. I just thought, 'It's my turn.' I've been in finals but I hadn't yet got a gold. And now it tastes so sweet.
"It's crazy that Edinburgh Athletics Club has back-to-back World champions. I know Jake was in the crowd tonight and due respect to him for laying the path for me to follow."
Wightman's last 100m in Oregon was 13.64. Kerr's in Budapest was 13.62. A close call in the Edinburgh AC sprint finish stakes, then – though, again, Nordas was faster, with 12.85.
"British 1500m running is just on top of the world right now," Kerr continued. "This is just reward for many years of hard work.
"I'm extremely proud to be on top of the world. I just did what I always do, throw everything I have at it and see if it breaks my way. As I came round the bend I thought I have to give everything I have.
"I didn't worry about what was going on earlier in the race, I just made sure I was there with 200m to go. Then in the last 30m I thought, 'I want this so badly, I don't care how much pain I'm in. I'm going to do everything to get to the finish line first'.
"I never got overwhelmed by what was going on in front of me. I didn't care about the splits. As for Paris, the Olympics is a year away. I'll enjoy this for at least an hour, then start thinking about it."
For Ingebrigtsen, there is still the challenge of the 5000m to come in Budapest. The question now is: can he make it a full repeat of Oregon and bounce back with the gold medal at his secondary distance?
"All credit to Kerr," he said. "He had a good race.
"I feel a little bit unlucky not being able to do what I have been doing the whole season, especially as it is the World Championships final.
"Of course, I am disappointed. I tried to give 100% but it is not easy when you are not feeling 100%. I had been on a training camp for three, almost four, months, with a minimum of social life and contact with the rest of the world, but in the warm-up today and in the semifinal I was a little bit dry in my throat.
"It got worse on the last two days and then a little bit better when I woke up this morning. Not feeling 100% feels very unlucky. I will definitely run the 5000m but I do not know how it will go."
As for the other Norwegian medalist, Nordas was looking back to Oregon, pointing out: "If you remember last year, I didn't manage to get to the final. This year for me is like a jump to the sky. I knew this medal was possible. I was not afraid.
"I saw Jakob's back so close to me and I pushed myself hard to the finish line. I almost passed him, then I looked to the big screen and he was still in front of me, unfortunately.
"I hope that I will be prepared even better for the Olympics in Paris."
On the evidence of Oregon and now Budapest, it promises to be quite some dust up. Edinburgh AC versus Norway – and, possibly, the rest of the world, too.
Photo credit: Getty Images