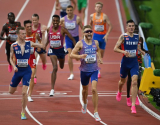 August 23, 2023
"For me, this is the be-all-and-end-all. You saw about 16 years of emotion at the end there. You just watched a kid achieve a dream that he has been having for a very long time."
By Simon Turnbull for World Athletics
When the television cameraman came to Jakob Ingebrigtsen as the 12...
Read More
comments