Kate Grace Now Taking a Positive Approach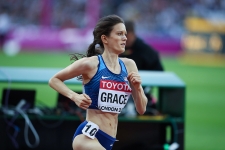 May 18, 2020
"It's just more time for Jerry and I to get to know each other and for us to work together so that it's training in his system but he's continuing to train me to be the best athlete that I can. And I'm optimistic about that."
By Sieg Lindstrom, Track & Field News
In the groove, rarin' to make great things happen. Ready for the Olympic season. That's how Miler Kate Grace felt in February. We all know what happened next. All across the world, to everyone. Life's rhythms, and track & field's, careered into a ditch. Don't you mean "careened," you ask? No, worse, humanity's boat got flipped.
"I'm coping, but I can't say it's pretty," Grace wrote on Instagram a day after the news of the Tokyo postponement broke. Grace favors thoughtful, long form IG posts, and her opening line by itself hovers sans context. But she concedes putting dreams to sleep for a year smarted a little more for her. She has "known for a while that this would be my final Olympiad." That's another line from her "coping" post.
"I was initially very upset when they postponed," Grace admits. "It's just hard when you plan for 4 years and it feels like things are coming together in such a great way. But to be honest, since that first day, basically after they announced the postponement I've been just trying to lay low, reduce drama as much as possible, take advantage of this for what it is. And I think also reset my mindset kind of in terms of the idea of having an extra year. If I was all excited about the different things I was implementing in my training this year [she was] and then I have an extra year, that just means that I get more time to do that."
Grace, who is 31, isn't the oldest athlete on the short list of women chasing U.S. Olympic berths in the 1500. Jenny Simpson at 33 is older, Shannon Rowbury who hasn't revealed her event choice for '21, is 35. But both those women own World Championships medals. Simpson's collection includes 2016 Rio Olympic bronze.
Grace points toward Tokyo from a different place, from the cusp, she hopes, of finishing a journey begun in '16. That year, you will remember, she was the Olympic Trials 800m upset winner, the 2-lapper who sprinted through a pile-up with 150 to go in the final to a 1:59.10 clocking that chopped a 3-year-old PR. The lone American to make the final in Rio, she placed 8th and then hit another best, 1:58.28, at the Diamond League Final in Zürich.
The breakthrough, made possible in part by revamping her formerly inadequate and weight-obsessed diet, confirmed for the '11 Yale grad that she could race with the best. Grace shifted focus toward the 1500 in '17, placed 2nd to Simpson at USATF that year and reached the Worlds semis.
When the NorCal Distance Project group she trained with for those seasons was dissolved, she made the move north to Portland and Jerry Schumacher's Nike Bowerman TC, in which she is the sole 800 / 1500 specialist on the squad.
Continue reading at: trackandfieldnews.com