John Walker, runner, world record holder: A look back at the first sub-3:50 Mile 40 years ago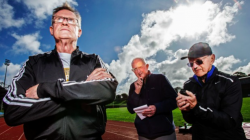 August 10, 2015
"Considering they ran a lot of miles in those days, it was a big thing. It's magical, the Mile, four laps to the Mile, people understand that."
By Steve Kilgallon, Stuff
John Walker had dreamed for years, visualising the details of the day that he would not just set a world record for the Mile, but break the substantial barrier of running it in under 3 minutes and 50 seconds.
It's no surprise that 40 years after he became the first man to do so, the Mile legend still recalls it vividly. "I do think about that race, and I remember it all," he says.
It was in Gothenburg, Sweden, on August 12, 1975, at the end of a long European tour and after training weeks of up to 90 Miles at a time that Walker, who recorded 127 sub-4 minute Miles in his distinguished career, almost on a whim, decided to aim for the record after winning 19 of his 19 races on the trip.
Continue reading at: stuff.co.nz