Jenny Simpson Still Going Strong… But in Which Event?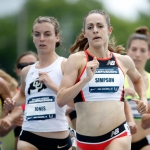 April 23, 2021
"But the 1500 has my number and that's what I'm trained for and excited about. I'm qualified in the 5K and the 15 for the Trials. So I'll keep my options open and be watching how the training goes."
By Jeff Hollobaugh, Track & Field News
"It has been the longest stretch of my career, probably since middle school, that I've gone without racing," notes Jenny Simpson. "Since the dawn of my interest in running at all, I've never gone this long without racing."
We last saw America's most bemedaled woman distance runner on the track back in February of 2020, when she made a rare foray into the 5000 and came away with a 14:58.67 best, then the #3 U.S. indoor performance ever.
Of her hiatus the 34-year-old Colorado alum says, "You're not the first person to ask, 'What's that like?' and I feel I don't really know yet." She's looking forward to racing at the end of April to straighten out her thoughts on the time away. "[Whether] I won't miss a beat, or if it's really going to take a toll, I will know that better once I get out there and start racing again."
In any case, one of the many effects of the pandemic was that Simpson enjoyed the rare treat of staying home over the summer. "Your goal is to be healthy and be racing and making teams. And I've had this incredible fortune of a long streak of summers where I'm out on the road. In 2019, I remember we were headed to the U.S. Championships and it was the first time it felt like this streak of consistently being gone and traveling… it was the first year that it felt like a lot.
"When the pandemic hit and we started to evaluate what options we would have as the dominoes fell, my coaches were just really thoughtful and really incredible and they said, 'You deserve a summer off; just stay home and enjoy your life. You deserve a break.'
"It's not that we shut down and stopped training, but we didn't look for racing opportunities. I got to spend the summer here just training, putting in miles and getting to be kind of a normal person with a dog [Truman, a Jack Russell Terrier] and yard projects.
"It was my first summer home since I've been married, my first summer home as an adult. I've really tried to just revel in that and be appreciative of it. Looking back on it, I wonder if having that release valve is going to give me more years in my career, because I don't feel tired anymore and I feel eager again, I feel really enthusiastic about getting out there and racing again."
As usual, last year coaches Mark Wetmore and Heather Burroughs had Simpson take an end-of-season break, but this time it came earlier — August — and lasted longer than ever. And she still started on her fall base-training earlier than usual. "It kind of shook up the schedule and I won't really know if we did it right until I start racing again. But along the way I felt like we made really good decisions."
She put together a solid winter of training, though she says that the unpredictability of the pandemic resulted in challenges using indoor facilities at the right times and sometimes complicated workouts with training partners. "That's where some of my experience came in as a strength," she explains. "If everyone's dealing with this, then I'm no worse for it. The person that will get through it the best is the person who doesn't let it rattle them. So I just tried to go with the flow, but even for me, it was hard at times."
Now looking ahead to the racing season — finally — Simpson is faced with the same mandated choice as many in her event group: 1500 or 5000 at the Trials? And though it has been 10 years since she won her World title in the 1500, she still is not sold on the notion of moving up.
Continue reading at: trackandfieldnews.com