Injuries, Surgeries, Illnesses Can't Stop Henry Wynne's Olympic Dreams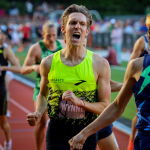 June 23, 2021
More than anything though, he wants to be an example to athletes at all levels going through tough times no matter what is keeping them from the sport they love.
By Andrew Dawson, Runner's World
Henry Wynne's arrival in Eugene, Oregon, for the 2021 U.S. Olympic Track & Field Trials, where he'll be racing the 1500 meters, can be compared to the part of a movie where we see our hero reach the pinnacle after long-fought ordeals along the way. His journey since graduating the University of Virginia in 2017 fits that mold.
Wynne had a standout junior season in 2016, when he won the Mile in the NCAA Indoor Championships and finished third at the outdoor championships in 3:38.35. But during his senior year, he was struck with a knee injury during the fall cross country season. Wynne rested until the spring, when he took second at ACC outdoors and hoped to cap off his season with a strong showing at NCAAs—until he had a bout with pneumonia right before regionals, and had to compete with a 103-degree temperature.
As Wynne's collegiate career closed, his goal to snag a pro contract after school appeared in jeopardy. On top of that, he had to deal with two words that might push away potential suitors: knee surgery.
Even with that knowledge, Brooks coach Danny Mackey saw potential in Wynne; he saw a runner capable of going faster in his marquee event.
So, Wynne and Mackey kept the knee surgery a secret through contract negotiations, and two days before Wynne's surgery, he signed a contract. Then they shared the news with Brooks.
"Danny saw an upside with me and took a big risk there," Wynne told Runner's World. "He didn't tell the sports marketing department about the surgery [during negotiatons], and they weren't happy, but I was ready to run and excited for the opportunity."
After a successful knee surgery and physical therapy at his home in Connecticut, Wynne officially joined his teammates in Seattle in October 2017. That first workout was eye-opening.
"You can ask Garrett Heath; he saw my first track workout back," Wynne said. "He was running next to me and asked, 'Are you doing a fartlek today?' His jogging pace was my up tempo. He must've thought, this guy is in the worst shape I've ever seen."
Wynne continued to work his way back into shape over the next year and a half, even competing in the 2019 USATF Outdoor Championships. But later that summer, another setback.
While on vacation in Denver, his stomach began hurting. He thought it was from the plane ride; instead, he needed emergency surgery on his small intestine, forcing a three-week hospital stay. He dropped 20 pounds because his intestines basically shut down.
"Outside one of the windows of the hospital, [I could see] a track," Wynne said. "I took that with me as a message that I can't take training for granted. Every day I saw that track, all I wanted to do was be out there and I couldn't. After all I've been through, I don't take it for granted anymore. I appreciate every moment being out there because I know that can easily go away."
Continue reading at: runnersworld.com