How to Set Five World Records at Age 50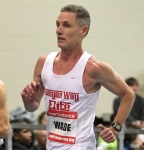 April 15, 2016
Master Sean Wade, who clocked a 4:23.07 indoor Mile age group 50-54 world record (3:50.1 age-graded), wants to be the fastest in his age group in every middle-distance track event, and he takes many precautions to stay healthy.
By Marc Bloom, RunnersWorld.com
Since turning 50 just two months ago, Sean Wade has raced the fastest times ever for the 50-plus age group at five track distances. Now the Houston-based athlete is resuming his aggressive speed work in an attempt to take every 50–54 world outdoor record — from 800 to 10,000 meters.
Wade joined the age group on February 3 and already has the outdoor 5000 and 10,000 meter records, with a 14:52.92 and 30:48.87, respectively. His eight-week tear began with indoor 1500 meter, Mile and 3000 meter marks at three Boston University meets during his birthday month. Then he went on to nail the outdoor 5000m mark in March, in Houston, and the 10,000 meters on April 1, in San Francisco.
In all five races, Wade competed against college and Open runners about half his age.
"I just followed the young kids," he said.
Continue reading at: www.runnersworld.com