How Peabody's Heather MacLean blossomed into an Olympian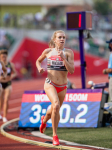 July 09, 2021
A "blue-collar kid" who's extremely gritty and relentlessly pursues her goals.
By Trevor Hass. Boston.com
As Heather MacLean has ascended from running rookie to collegiate athlete to All-American to Olympian, her journey has been anything but linear.
Unrelenting bouts with pneumonia in college, the death of her step-father and father in the same year and a fear of letting people down initially held her back. Now, she's learned to prioritize her mental and physical health, use her step-father and father's passing as motivation and prioritize those in her corner.
MacLean, a 25-year-old from Peabody who graduated from UMass Amherst in 2017 and earned a graduate degree in 2019, recently qualified for the Tokyo Olympics in the 1500 meters following a tumultuous yet ultimately exhilarating thrill ride in Eugene, Oregon.
The first round is set for Monday, Aug. 2. MacLean will represent the United States on the grandest stage as the first Olympian in the history of the UMass Amherst women's track & field program.
She said she questioned "a hundred million times" whether she should run full-time. Whenever she doubted herself, though, it fueled her even more and made the ultimate reward even more glorious.
"That's the most special part of it," MacLean said. "I know that without all that stuff I had to go through, I might not be here today. It's made me resilient, and hopefully it can inspire somebody one day who might be in a similar position and might be questioning whether or not they should go after that passion."
Her career had a sweet beginning.
MacLean's mother, Michele Maurice, suspected she might have an athlete in the making when her daughter started using her legs to lift herself up and walk by nine months.
She put her in tap class at age 3, soccer at age 4, and softball, hockey, cheerleading, and just about everything else after that. As the family moved from Malden to Salem to Peabody, sports became a constant in MacLean's life.
MacLean won a 4th of July race in town but never thought much of it for years. On the soccer field, she typically ended up ahead of the pack, with the ball at her feet and no clue what to do with it. At home, she frequently found herself successfully running away from her older brothers. She knew she was fast, but she never considered track & field as an option.
One day, her best friend and Market Basket colleague Mary Leach told MacLean she was joining the indoor track team. Leach was MacLean's ride home, so she figured she might as well give the sport a try herself and see what happened.
Junior year at Peabody High School, moments before her first race in the 300, MacLean and Leach made a quick trip to the convenience store down the street and showed up with cookie crumbs all over their faces. She laughs now as she thinks about how naive she was, but she still managed to pull out the victory. That was when her mind started racing.
"I remember winning it and being like, 'Whoa, this is really cool. I just won the race.' I had never had a feeling like that before," MacLean said. "After that, I was like, 'Well, I'm going to keep doing this.' I kept getting progressively better, and kept learning the tricks of the trade of the sport, like maybe don't eat a chocolate bar as soon as you go onto the starting line."
She got her first pair of spikes that were passed down through the program, and from there, she was off.
She still excelled in college despite battling pneumonia many times.
Running in college had never crossed MacLean's mind until her high school coach, Joe Rocha, proposed the idea. MacLean, who ended up capturing a Division 1 state title in the 600 and 800 in track and helping the Tanners win a state title in cross country, among other accomplishments, was intrigued by the idea of becoming the first person in her family to go to college.
When UMass coach Julie LaFreniere – who became like a second mother to her – offered her a spot on the team, she committed the next day.
MacLean set the UMass outdoor record in the 800m as a freshman (2:07.41) and broke her own record the following season (2:06.45). She excelled whenever she was able to run, but six or seven bouts of pneumonia that each lasted several weeks consistently kept her sidelined throughout her career.
"Every time I was getting to this peak pinnacle of shape, all of a sudden something would happen," MacLean said.
Now, as she reflects back, she believes it was a culmination of all the stress on her body and mind. She wasn't sure she'd be able to attend a four-year college, so once she did, she wanted to do as much as humanly possible. That meant her sleep and eating habits suffered as a result.
MacLean still managed to place ninth in the Mile at the NCAA Championship (4:43.29) and win gold in the 800m at the New England Championship (2:05.00) as a junior in the 2015-16 indoor season, but she missed all of that outdoor season. The next year, she took first in the 1500m (4:23.18) at the Atlantic 10 Championships but was left wondering what could have been. It was a vicious cycle of glory followed by gloominess.
"It definitely took its toll on my body getting sick that many times," MacLean said. "It would take me so long to bounce back after that. Every time I got sick, I needed to work like three times as hard once I recovered."
She leans on her father's memory for motivation.
After her step-father, William Maurice, died the summer before her senior year, a grieving MacLean worried that her father, Robert MacLean, who was diagnosed with cancer that June, might be next. When she learned that her father was nearing the end, she and some of her siblings flew out to San Diego to be with him for his final days.
"Spending that final time with him was really special to my siblings and me," MacLean said. "I was pretty much in a blur for the rest of the year. It was just so many traumatic events in such a short amount of time."
She constantly felt down, and she beat herself up for feeling down, but she eventually convinced herself it was OK to feel sad after the trauma she had endured. MacLean decided to channel her frustration into something positive, drawing inspiration from her father's memory as her running career continued to blossom.
Robert was a "Boston guy," an iron worker who "ran on Dunkin'." He was fearless, MacLean said, and thinking of him now motivates her to be less cautious when she races. He gave her a claddagh ring for her 20th birthday that she still turns to before crucial races.
Even though he's not here physically, MacLean said, he helps her metaphysically. The ring is a reminder that he's watching over her.
"He would always say, 'Kiss the ring. Kiss the ring if you want some good luck,'" MacLean said. "Every time before a race, that's exactly what I do. 'OK, Dad, I know you're here with me, I know you're watching. Can you please help me feel fearless through this?'"
Continue reading at: boston.com