Hocker beats gold medalist Centrowitz, earns Olympic spot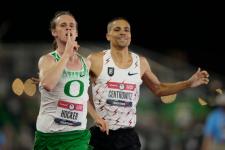 June 28, 2021
The youngest outdoor national champion in the 1500 or Mile since 1911: "This whole year, I felt like I was proving myself to the world, but also proving my talent to myself."
By David Woods, Indianapolis Star
Over the course of three minutes, Cole Hocker was far from the desired destination, Tokyo. Maybe not 4,900 miles away. But in a race of this quality and consequence, every step behind is an ocean to cross.
Then it happened. A Hocker shocker. It has happened so often over five months, it should not have been. Yet . . .
This was not the City meet. Nor the state meet. It was a statement meet. These were pros – the Olympic champion, for goodness sake – and runners ready for strategy, bumping, bleeding.
But on a 91-degree Sunday night in the Pacific Northwest, there was no one genuinely ready for this. Not even Matthew Centrowitz, one of the premier tacticians in track & field.
Hocker, with about 150 meters left, was in sixth place. Three make the team. He might as well have announced: Got this.
Hocker saw daylight and darted through it like Barry Sanders. He ran down the stretch like Usain Bolt. This is a new Hayward Field, and already it is his $270 million house.
The Indianapolis 20-year-old became the youngest Miler in 110 years to be the national champion, and an Olympian, too.
Hocker won the 1500 meters in the U.S. Olympic Trials at Eugene, Oregon, and in doing so took down the reigning gold medalist. In a historic race for Hoosiers – and Irish – the third spot was seized by Notre Dame's Yared Nuguse. Hocker represented the Cathedral Irish.
Hocker put a finger to lips past the finish as if to shush critics. An "in-the-moment thing," he said.
Continue reading at: indystar.com
U.S. Men's Olympic Trials 1500m
Hayward Field, Eugene, OR, Sunday, June 27, 2021