Haney to run as favorite in Junior Pan Am race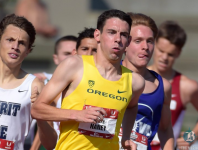 August 01, 2015
The Pan Ams will mark the second time Haney will don the USA kit; the first was two summers ago at the World Youth Games in Donetsk, Ukraine.
By Cameron Miller, The Bakersfield Californian
Blake Haney's whirlwind summer began at Hayward Field in Eugene, Ore., — widely known Tracktown, USA — when the Oregon freshman stunned the distance running world by placing third in the NCAA 1500-meter final. Appropriately, the inaugural collegiate track season for the former Stockdale star will end in another Tracktown, albeit one much further north.
Haney is set to race the metric Mile at the 2015 Pan American Junior Track and Field Championships (open to athletes from the Americas age 19 or younger) this afternoon in Edmonton, Alberta, Canada, which has branded itself as "Tracktown Canada." Indeed, the city has a rich track and field history, having hosted many high-profile events, including the 1978 Commonwealth Games, the 2001 World Championships and this year's Canadian national championships.
Haney, a dual U.S.-Canada citizen whose father Ken was born in British Columbia, has spent a fair amount of time north of the border but has never been to Edmonton. He said he's very much looking forward to competing on the distinctive green and gold track at the University of Alberta.
Continue reading at: bakersfield.com