Handy, Dandy Translation Guide at Merber Wedding a Hit!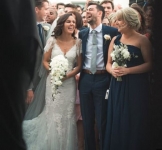 October 18, 2017
Irish bride Patricia Barry created a guide to help out friends of her American groom Kyle Merber when the pair tied the knot in Tipperary last week
By Chris Pleasance for MailOnline
While many Americans might like to claim a little Irish blood in their veins, the country's culture and especially accent can often leave people baffled.

Which is why New Yorker and Mile star Kyle Merber decided to create a handy translation guide when he married Irish bride Patricia Barry last week.
The hilarious sheet, which was handed out to guests at their wedding in Tipperary last Saturday, has since gone viral - attracting tens of thousands of views online.
An example include 'Jaysus that speech was gas, he was absolutely brilliant. What a legend!' which becomes 'OMG that speech was sweet, he crushed it. So epic!'
Continue reading, includes the translation list, at: dailymail.co.uk