Grand Blue Mile awarded USATF 1 Mile Road Championships from 2020-23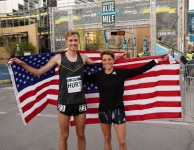 February 20, 2020
Past national champions Hurt, Masters, Lipari & Kampf commit to 2020 race on Tuesday evening, April 21; $30,000 prize purse available
From Grand Blue Mile
DES MOINES, Iowa - Grand Blue Mile officials from Wellmark Blue Cross and Blue Shield and Drake Relays have announced the USA Track & Field road Mile national championships will remain a part of the annual Grand Blue Mile through 2023.
The prestigious USATF 1 Mile Road Championships elevate the elite-level competition of the Grand Blue Mile that annually attracts Olympians, World Championship participants and the country's best Milers vying for national titles and a share of the $25,000 Open prize purse plus $5000 course record bonus money.
"We are honored and privileged to welcome back the USATF 1 Mile Road Championships through 2023," said Chris Verlengia, Wellmark Blue Cross and Blue Shield's senior brand marketing manager and Grand Blue Mile co-race director. "By extending our longstanding partnership, USATF has cemented Grand Blue Mile's status as the definitive showcase for America's best Milers, and we're humbled to have hosted more 1 Mile Road Championships than any other race in the nation."
Early entrants for the 2020 USATF 1 Mile Road Championships at the 11th Grand Blue Mile on Tuesday evening, April 21 include defending men's champion Tripp Hurt and 2018 champion Riley Masters. In the women's race, 2018 Grand Blue Mile champion Emily Lipari will join Heather Kampf, 2019 runner-up and three-time race champion (2014-16).
"Like the Drake Relays, the Grand Blue Mile has become a destination for the world's greatest athletes," said Blake Boldon, Franklin P. Johnson Director of the Drake Relays. "As we look to the next decade of this special event, we're proud to solidify our partnership with Wellmark to bring America's most accomplished middle-distance runners, alongside participants of all ages and abilities, to downtown Des Moines."
At the 2019 USA Championships and first stop on the BBTM Grand Prix Tour, more than 30 road race stars competed for the national titles and a share of the prize purse at the 10th Grand Blue Mile. In a thrilling down-to-the-wire three man finish, Hurt won the men's national title with a time of 4:04, while the women's U.S. crown was captured by Nikki Hiltz in 4:30, a course record. Both athletes earned their first USA titles.
Join the Relays Wellness Challenge
Back for a second year is the Relays Wellness Challenge, an employer-based team competition to promote a healthier Iowa. Points will be awarded based on participation in the Drake Road Races on April 19 and the Grand Blue Mile. Participating companies will compete in three categories based on their size: small (5 to 50 full-time employees), mid-size (51 to 500 full-time employees) and large (more than 500 full-time employees).
Points will be awarded based on participation and completion of events. Employees of enrolled companies will also receive one point for volunteering at either event or at the Relays Health & Fitness packet pick-up expo on April 18. Finishers will receive: two points for the Mile, two points for the 5K, three points for the 10K and four points for the half-marathon. The winning team in each division will be publicly recognized and receive a traveling trophy to celebrate their achievement.
To-date, more than 37 companies have pledged to support the 2020 challenge, with many more employers primed to enroll in the coming weeks.
To enroll your organization at no cost, email drakeroadraces@drake.edu or call (515) 271-1957.
Set the Pace Challenge returns in 2020
Grand Blue Mile officials also announced a continued partnership with the Healthiest State Initiative (HSI) for the return of the Set the Pace Challenge. The challenge encourages Iowa communities to develop sustainable, healthy habits throughout 2020 — starting with participation in the Grand Blue Mile on April 21.
As part of the challenge, the community with the highest percentage of its residents participating in Grand Blue Mile — measured by the number of registrants for a given ZIP code against its total population — will be awarded $10,000 to use on a project that promotes safe and accessible places in which to be active, such as a park, playground or trail.
"We are proud to bring another year of the Set the Pace Challenge to communities across the state," said HSI Executive Director Jami Haberl. "Whether you live just down the road from the Grand Blue Mile race course or a two-hour drive from the metro, we've seen communities of all sizes rally together to accomplish one goal — creating a healthier hometown."
The 2019 Set the Pace challenge winner, Odebolt, used their award to make critical improvements to their community pool that acts as a gathering place for residents. To watch the video and learn more about the project, click here.
Register today at grandbluemile.com
Youth and adult registration for the Grand Blue Mile is open, with all proceeds supporting school-based wellness programs in association with Iowa Kidstrong and the historic Drake Relays.