First stop Buckley, next stop New York City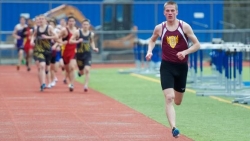 May 07, 2012
By Doug Binder, ESPN.com
BUCKLEY, Wash. - There are just three stop lights in Buckley, Wash., the small town located in the foothills halfway between the city of Seattle and the summit of Mt. Rainier. There's just one restaurant, Wally's, a drive-in that's popular with the high school kids.
It's the kind of place where the high school's sports are a big deal.
Last week, word spread like wildfire that Marcus Dickson was going after the White River High School record in the 1,600 meters in a dual meet against Sumner, right there in Buckley.
Dickson encouraged the buzz in town and then put on a show for the people who came to watch him run in his final home meet. He ran a US#1 4:05.83, helped by a teammate willing to run the first 800 in 2:02 and coaches positioned strategically around the track to keep him up to date on his split times.
Continue reading at ESPN.com