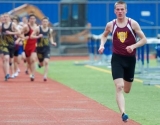 May 23, 2012
One of the nation's fastest high-school distance runners, Dickson will enter four events at the state meet, hoping to carry his team to a title.
By Mason Kelley, Seattle Times
BUCKLEY, Wash. - On the way through Buckley there is a sign for White River High School. It is just off the side of...
Read More
comments