Engels leaves mark on Ole Miss track & field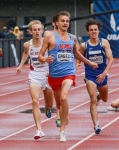 June 22, 2017
Rising U.S. Mile star sports an attention-getting mustache and mullet combination: "I feel like if I can bring something different to the sport then common folk will get into it."
By Que'Taurus Certion, The DM Online
Craig Engels finished his career as an Ole Miss Rebel track runner as a 6-time All-American and school 1500 meter record holder, but the Ole Miss track & field star's career almost never happened.
Engels was born in Pfafftown, North Carolina, and is the son of Todd and Dawn Engels. He initially had a passion for playing soccer, but due to early behavior issues, he ended up choosing a different path in track.
"I actually hated running," Engels said. He said running is still not the most fun part.
"I didn't make the middle school soccer team, and I should have," Engels said. "I was really discouraged with it, and I went out for middle school track, and I basically did it to kill time, because I wasn't good or anything. In high school I didn't make varsity because of disciplinary actions. So I was like 'I'm going to go try something else,' and I went to running and it was probably the best mistake."
Engels had a history of behavior issues during his time in school in Pfafftown, and was removed from his high school soccer team due to his behavior. In high school Engels was on ADHD medication and felt as though it held him back in his performance both in class and outside of class and kept him from furthering himself as an individual.
"I know when to have fun and when to be serious. Back then I was still on ADHD medicine, and now I've realized that running is a really good alternative to taking those medicines that alter your body for the rest of your life," Engels said. "A lot of college students think it's an advantage to take ADHD medication, but that stuff messes with you and I hated it. I finally found my natural remedy, and it was running, and I'm very thankful for that."
Engels used this newfound focus on track to set multiple records at Ronald W. Reagan High School in the 800 meters, Mile and 3200 meters. He recorded his best high school Mile time at the 2012 adidas Dream Mile, where he ran 4:03.96.
Engels credits his high school track coach, Chris Catton, for much of his early success.
Continue reading at: http://thedmonline.com