Crazy Running: A 15 Year Journey to 4 Minutes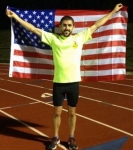 August 07, 2014
With 1,000 fans screaming, clapping, and slamming their hands on the track, yelling "GET IT, GET IT, GET IT!"
By Donnie Cowart
The Early Years
I can trace my thoughts about a sub-4 minute Mile all the way back to middle school. Just starting my running career, I had no idea the challenge and work that lay before me, but I was extremely optimistic. From eighth to 10th grade I weighed less than 100 pounds. I was cut from my middle school baseball, and basketball teams with the coaches saying, "You need to grow a little taller." "You need to get stronger." Those two statements hurt, especially the "growth taller," because there wasn't anything I could do to speed the process. Then I found my home in track & field, a place where size didn't matter. In eighth grade, I mustered a 5:29 Mile, in ninth 4:59, and by 10th grade I got it down to 4:50. I was on my way. I worked hard did everything I was told to do, always telling myself I was going to be good when I was older, stronger, and possibly after that "growth spurt."
Well, the "spurt" never happened, but my senior year I ran 4:22 and got recruited to college. With a good coach, I went from 4:19 as a freshman, down to 4:04 as a senior during a race I lead from wire-to-wire. After I graduated from college in 2009, my progress continued with a 4:02 Mile in 2010, 4:00.62 in 2011 (almost there!) and 4:01 in both 2012 and 2013. Jump ahead to 2014...
Not Your Typical Pre-Race Routine
The race at Sir Walter Miler was an amazing experience, and for me it was a complete shock because 36 hours prior to my race I had a 24-hour stomach bug. I went for a shakeout Thursday morning thinking just some fresh air and increased blood flow might do my stomach some good. Arriving back at my house, I immediately felt worse and proceeded to vomit and then curl up in a ball on my couch. I had myself convinced I wasn't that sick – that I had simply eaten something that didn't agree with me, and that I would feel better once I rested. I went to work at Crazy Running, a kid's track and field organization that I co-own. After half a day, my business partner sent me home. At this point, all I had eaten was a banana and a few crackers, which I washed down with a sports drink. That night my girlfriend helped me write an email to the race director saying I wouldn't be at the pre-race dinner. We then went to the grocery store to get some tomato soup and bread. I ate as much as I could tolerate before heading to bed for 12 solid hours of sleep. The next morning (12 hours before the race) I was feeling well enough to eat breakfast and make the 2-hour trip over to Raleigh, with my girlfriend driving, of course. We stopped along the way for lunch; though still squeamish, I managed to eat something. For the rest of the trip, we battled traffic and rain, and I drifted in and out of sleep. After arriving at our host family's house, I laid down for a nap once again.
Continue reading at: www.athletebiz.us