Craig Engels on his pro career: "I don't know if I'm retiring or not"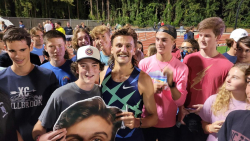 August 11, 2021
"I was pretty bummed out there (at the Trials), so I came up with this little tour around America, doing Miles..."
By Eddie Wooten, Winston-Salem Journal
RALEIGH — Fast and accomplished as they are, eager as they were to toe the starting line and chase the ever-magical 4 minute Mile, the other 12 competitors in the Sir Walter Miler had to wait.
Just as those runners had been welcomed one-by-one Friday night before a crowd of about 3,000 track fans, some perched in the bleachers and others standing along the edge of Lane 1 or against a barrier outside of the third lane, one last competitor's list of accolades remained to be read by public-address announcer Logan Roberts.
Finally, the moment arrived.
"From Pfafftown, North Carolina, Craaaaig Ennnnggggeeeellllssss!"
Craig Engels, always smiling and the mullet always waving behind him, strode down the track toward the starting line, toward those 12 waiting competitors, surrounded by an adoring audience. Fans stood to applaud. They howled. They shrieked. Along the track, they stuck out their hands, just wanting a piece of the People's Choice.
"Let's go, Craig!" a fan near the starting line yelled.
Engels didn't win, his 3:56 Mile good for only fifth place on this night, but he didn't disappoint, either. Before he took a cooldown run, he posed for photos and autographed signs, shirts, a white Croc, a can, bricks that had lined the track and, yes, flesh.
So on a 40th day of wandering in his sport's wilderness, of coming to grips with finishing fourth in the 1500 meters at the U.S. Olympic Trials and, by one place, again, missing the Olympic Games nearing a conclusion on the other side of the world, what he said at the end of the night seems all the more unthinkable.
"I don't know if I'm retiring or not," said Engels, whose contract with Nike ends in December. "I'm deciding if I get another sponsor to fire it back up and really go for Eugene (site of the 2022 World Championships)."
Continue reading at: journalnow.com