Coe, Goldring Win 14th Platinum Performance State Street Mile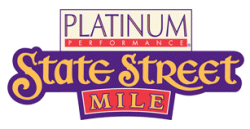 June 02, 2013
Course records for Coe and female Masters champion Cindy Abrami; Steve Harding, Brittany Bruden take unofficial World Championship Dog Mile titles; event record 6 men go sub-4 minutes
By Bring Back the Mile
SANTA BARBARA, Calif. – (June 2, 2013) – At the 14th Platinum Performance State Street Mile in beautiful downtown Santa Barbara on Sunday morning, Michael Coe from Oakland, CA and Katja Goldring from Los Angeles took home titles in 3 minutes, 49 seconds and 4:34, respectively, plus $500 as race champions. Coe, 25, the first Santa Barbara County athlete to break 4 minutes in the track Mile, also earned a $250 bonus for a course record (previous record was 3:52 set in 2007 by Mike Chavez). Coe's performance was also the fastest Mile recorded on California soil!
"What a great day for the Mile! At our 14th edition of the Platinum Performance State Street Mile, we witnessed national class and course record performances and plenty of smiles and happy runners," said race director Megan Rheinschild.
In the men's race, under cool, overcast conditions, it was a battle over the point-to-point downhill course between Coe, UCLA distance coach Forest Braden, Aric Champagne and recent UCSB grad Juan Paredes. Coe, an All-American at Cal-Berkeley, finished strongly and held off Braden who clocked 3:50, also under the course record and an event record 6 men broke 4 minutes.
"I heard the event record was 3:52 and I absolutely had it on my mind. I figured I could do it with my training lately and knew I was in that kind of shape. It was a lot of fun in Santa Barbara on State Street. Braden pushed the pace and I just tucked in behind him," said Coe, who is preparing for next weekend's Portland Track Festival 1500m and a USA Outdoor Championships qualifier.
In the women's race, recent UCLA grad Goldring, 22, used a late race surge to pull away from 2011 race champion Bethany Nickless and local Andrea McLarty who were timed in 4:37 and 4:38.
"I wasn't aiming for the course record or even winning. My coach [Forest Braden] told me about this race earlier in the week, but I raced the 1500m yesterday at UCLA, so I just had to see how I felt when we got going. I felt good enough today. It's the last race of the season and just graduated in Math from UCLA," said Goldring.
In the Mas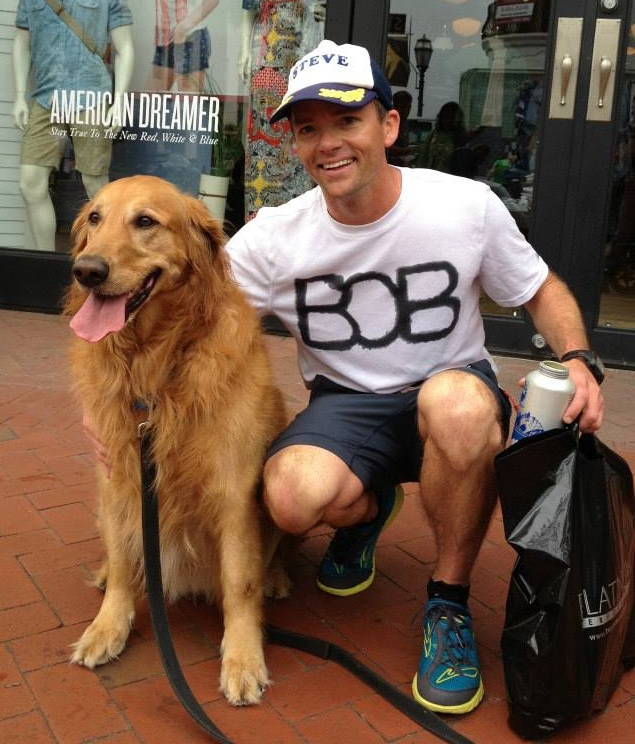 ters races (40 and older), Ray Knerr, 53, of nearby Ventura and local resident Cindy Abrami, age 44, ran dominant performances in 4:30 and 4:57 and both also pocketed $150 as the top age-graded 40-plus Milers, 96.98% and 94.21%, respectively.
The event also hosted the popular, tail-wagging Dog Mile, the unofficial world championship for man's best friend and the iconic distance, that was won by Steve Harding & Bob (left, BBTM) in 4:26 and the women's winner was Brittany Bruden in 5:44. At the event, Harding ran 11 seconds faster with his dog than in his earlier solo Mile.
The event, which had 14 heats, had approximately 800 entrants, mostly in the YMCA Family Fun Mile, and all proceeds from the event go directly to the District Attorney's Victim-Witness Assistance Program's Crime Victim Emergency Fund ($10,000 raised at this year's event).
The Platinum Performance State Street Mile was also the seventh stop on the inaugural Bring Back the Mile Tour that includes 14 events and one end-of-the-year gala held across the country and throughout the year.
14th Platinum Performance State Street Mile
Santa Barbara, CA, Sunday, June 2, 2013
MEN
1) Michael Coe (CA), 3:49*, $750#, the fastest Mile recorded on California soil
2) Forest Braden (CA), 3:50, $250
3) Aric Champagne (CA), 3:52, $100
4) Juan Paredes (CA), 3:53
5) Tetlo Emmen (CA), 3:58
6) James Withers (CA), 3:58
*course record (previous record, 3:52, Mike Chavez (USA / CA), 2007)
#includes $250 course record bonus
MASTERS MEN AGE-GRADED
1) Ray Knerr, 53, CA, 4:30, $150 (96.98%)
2) Nash Jimenez, 64, CA, 5:14, $100 (91.18%)
3) John Araujo, 55, CA, 5:04, $75 (87.28%)
WOMEN
1) Katja Goldring (CA), 4:34, $500
2) Bethany Nickless (CA), 4:37, $250
3) Andrea McLarty (CA), 4:38, $100
4) Danielle Domenichelli (CA), 4:41
5) Glennis Seldon (CA), 4:58
MASTERS WOMEN AGE-GRADED
1) Cindy Abrami, 44, CA, 4:57*, $150 (94.21%)
2) Maggie Mason, 56, CA, 5:57, $100 (91.24%)
3) Fran Finney, 58, CA, 6:11, $75 (90.38%)
*course record (previous record, 5:03, Cindy Abrami (USA / CA), 2012)
For complete results, photos and more, go to: www.sbmile.com