Clayton Murphy has his Olympic medal, and he is only getting started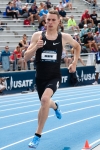 June 28, 2019
Murphy is part of the world class field in the Bowerman Mile, the signature event in Sunday's Prefontaine Classic at Stanford University.
By Ken Goe, The Oregonian / OregonLive
BEAVERTON, Ore. — It's been nearly three years since Clayton Murphy's "pinch me" moment on a humid night at Olympic Stadium in Rio de Janeiro.
With a lap and a half to go in the 800 meter Olympic final, the college junior from rural western Ohio saw his opportunity.
"I knew I had a shot at least at being in the top five," Murphy says. "So, I just kept trying to chip away at it, chip away at it, get one more guy, and one more guy."
It worked. Murphy came from behind in the final 200 to claim bronze. However long his career, whatever else happens, Murphy already owns his piece of Olympic history.
He is 24 now, and hasn't stood still. Since the 2016 Olympics, Murphy has moved to the Portland area, joined the Nike Oregon Project, become engaged to former University of Oregon track star Ariana Washington, formed a household that includes two French bulldogs and laid the groundwork for 2020.
"I was joking with myself," Murphy says. "I have to keep going up the ladder. It's not like I won gold my first time out. I have to at least get second or first before I'm done. I haven't made the final of a World Championships. There are still a lot of things I need to check off my list in the next couple years."
Continue reading at: oregonlive.com
Bowerman Mile 2019 field