Cheruiyot, Manangoi Headline Bowerman Mile at Pre Classic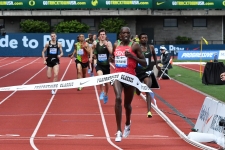 May 29, 2019
Loaded field at 20th edition features six men with sub-3:50 Mile PRs including American Johnny Gregorek
From Prefontaine Classic
STANFORD, Calif. - On Sunday, June 30 at Cobb Track & Angell Field, the world's best Milers will bring their rivalry to the Prefontaine Classic for the meet's climactic Bowerman Mile, now in its 20th year.
The dynamic duo of Timothy Cheruiyot and Elijah Manangoi have dominated the world Miling scene since Manangoi led a 1-2 Kenyan sweep in the 2017 London World Championships 1500. Last year, they flipped 1-2 positions in Track & Field News' annual world rankings, which combines efforts at the 1500 and Mile. No one has beaten both in the same race in almost two years. but don't be surprised if a teenager or two steals the show – as happened in last year's magical race.
Timothy Cheruiyot, 23, won a second straight IAAF Diamond League trophy last year, helping him earn his first #1 world ranking by TFN. He topped Manangoi 6-3, including winning his first Bowerman Mile. His 1500 meter personal record of 3:28.41 makes him history's #7 ever.
Cheruiyot came out of nowhere as a 19-year-old in 2015 to make the Beijing Worlds final, taking 7th. He didn't make the powerful Kenyan Olympic team for Rio but world-ranked for the first time at #6. He has won the last two Kenyan 1500 titles.
Elijah Manangoi, 26, is all set to defend his London World gold, beating Cheruiyot earlier this month at the Doha Diamond League 1500, where this fall's World Championships will be held.
Manangoi has a stellar record, starting with a silver in the Beijing Worlds that propelled him to four straight top-3 world rankings by TFN. He owns a career 11-9 record over Cheruiyot and is seeking his first Bowerman Mile title – in 2017 he lost by just 0.04 seconds, the closest in meet history.
Filip Ingebrigtsen, 26, completes the medal sweep from London, his bronze the first in this event for Norway in the Worlds or Olympics. His Norwegian record of 3:30.01 set last summer helped him to his best world ranking by TFN at #5. He's not the fastest Miler in the family – older brother Henrik owns that record at 3:50.72 (he'll be running a longer race at the Pre Classic this year).
All eyes in Norway – and the world – are looking at 18-year-old Jakob Ingebrigtsen, who last summer became the youngest-ever European champion at age 17 with a stunning 1500m victory, beating both of his brothers in the process for the first time. The next day the teen phenom added 5000m gold.
Jakob ran his first Bowerman Mile last year in 3:52.28. A year earlier in the Pre Classic's International Mile he ran 3:58.07 to become the youngest-ever sub-4 Miler (previous was Jim Ryun with his famous 3:59.0 in 1964).
This year Jakob has set two indoor world Junior (U20) 1500 records, won gold and silver at the Euro Indoors (3000 / 1500) and was 12th in the World Cross Country Championships in late March.
But Jakob Ingebrigtsen won't be the only teen to reckon with. Ethiopia's Samuel Tefere, 19, was just 18 when he won last year's World Indoor 1500 in an undefeated season. This winter he claimed the world indoor record of 3:31.04, beating countryman Yomif Kejelcha (the 5000m specialist who set the world indoor Mile record is confirmed to run a yet unannounced longer race at the Pre Classic).
Tefere was runner-up in last year's Bowerman Mile in his first race on U.S. soil. He is Ethiopia's second fastest ever in the 1500 and earned his first TFN world ranking last year at #8.
A 2016 historic win in Rio made Matthew Centrowitz, now 29, the first American Olympic gold medalist since 1908 in the men's 1500 meters. He won his fourth outdoor U.S. 1500 title last summer. His dad, Matt, is an Olympian as well as a former U.S. record holder in the 5000 meters.
Clayton Murphy, 24, is likely best remembered for his Rio Olympic bronze at 800, the first Olympic medal by an American at that distance since Johnny Gray in 1992. Yet his best distance might be the 1500, as he has been the top American in the last two Bowerman Miles. Murphy has an 800 best of 1:42.93 and this year has lowered his indoor Mile PR to 3:53.30, won the U.S. indoor 1000m title and has not lost outdoors.
Johnny Gregorek, 27, became the most recent member of the select sub-3:50 club, running 3:49.98 indoors in early March – nearly breaking the American record of Bernard Lagat. His parents (John & Chris) were both national collegiate runners-up at Georgetown, and dad made the 1980 and 1984 U.S. Olympic teams in the steeplechase.
Ayanleh Souleiman, 26, of Djibouti was ranked #3 in the world last year by TFN. He's a two-time winner of the Bowerman Mile, and his 3:47.32 meet record is also the Diamond League record in the event and the U.S. All-Comers outdoor record. He was just 0.05 seconds from a medal in Rio. Souleiman was the World Indoor gold medalist in 2014.
Aman Wote, 35, is the only Ethiopian faster than Tefere in the 1500 and owns national records in the 1500 (3:29.91) and Mile (3:48.60). He has been world ranked twice in the top 10 the last two years by TFN.
Brahim Kaazouzi, who will turn 29 on June 15, was world ranked #4 last year by TFN. He has yet to a run a Mile or any race in the U.S. He is Morocco's 7th fastest ever at 3:31.62 in the 1500.
Kenya's Bethwell Birgen, 30, is set for his sixth Bowerman Mile. The World Indoor 3000m bronze medalist lowered his indoor Mile PR in January – outdoors his best is 3:50.42.
Veteran Nick Willis is the oldest in the field at 36. He earned Rio bronze after Olympic silver in 2008. His Mile PR of 3:49.83 is second only to John Walker's 3:49.08 in New Zealand history, but in the 1500 he broke Walker's nearly 30-year-old record with a 3:29.66.
Rounding out the field is 2019 USATF Indoor Mile champion Craig Engels. The former Mississippi standout finished 4th in 2016 Olympic Trials 800 and 5th in the 1500. In 2018, Engels finished 7th in the World Indoor 1500 final. His lifetime Mile best of 3:53.89 was set indoors this past March.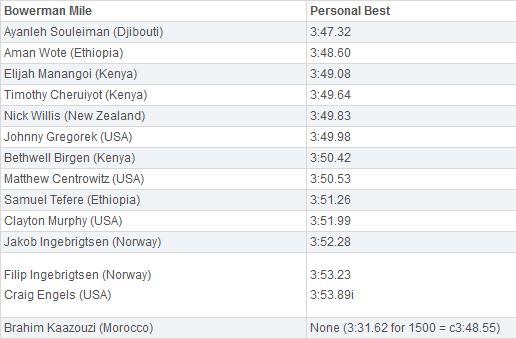 The Bowerman Mile is named for Bill Bowerman, a legendary figure in track & field history who co-founded NIKE while coaching national championship teams four times at the University of Oregon (1962-70). Among his famous pupils was Steve Prefontaine, whom he recruited and mentored to the Olympics. Bowerman passed away at age 88 on December 24, 1999, and the Pre Classic Mile has been known as the Bowerman Mile since then. A compilation of all Pre Classic sub-4 Miles and other related statistics is available at PreClassicMiles. Since 2009, the U.S. Track & Field and Cross Country Coaches Association has presented its highest award, The Bowerman, to the top male and female track & field athlete.
Tickets for the 45th edition of the Prefontaine Classic, to be held Sunday, June 30 at Cobb Track & Angell Field in Stanford, Calif., are available now by clicking here or at gostanford.com/tickets. Fans may select their exact seats using the pick-your-own map. Tickets can also be ordered over the phone by calling 1-800-STANFORD.