Chemotherapy, then USA Championships, for Mile star Gabriele Grunewald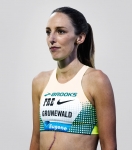 June 21, 2017
"I don't always love talking about it. It's not a made-for-TV movie. It's real. It's scary."
​By Michael Powell, New York Times
EUGENE, Ore. — Gabriele Grunewald stepped onto the track as the dying light of day yielded to periwinkle evening.
She and her fellow world class runners walked single file, hair tied in ponytails, to the starting line at the annual Prefontaine Classic, one of track's premier events. The women were a lithe pack, and it was difficult to pick out Grunewald. I identified her by the purple half-moon scar that stretches across her abdomen.
The runners toed the starting line, the crowd fell silent, a gun sounded and they were off.
Grunewald is not the world's fastest 1500 meter runner, although she is competitive and fierce down the stretch. But on this warm May evening, she slipped to the back, her stride choppy. Coming out of the final turn, she scrunched her face and summoned a burst, neck straining and legs pumping. She caught an Australian runner, nipping her competitor by half a second, but finished ninth out of 10.
Continue reading at: www.nytimes.com