Centrowitz, Rowbury Win Wanamaker Mile Titles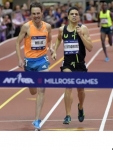 February 14, 2015
Lagat shatters Masters (40 & older) Mile world record; near record 10 men go sub-4 indoors at 108th NYRR Millrose Games
By Jim Gerweck, Mile wire
NEW YORK – The Mile is generally considered to be the perfect race in the track & field canon because of its near-perfect symmetry. Four laps of 440 yards, usually run like a Mozart symphony: exposition, development, coda and concluding crescendo that often brings the crowd to its feet.
The 108th running of the NYRR Millrose Games on Saturday took that format indoors (8 laps) and extended and applied it to the list of events for the main section of the evening, beginning with two high school Miles, moving on to the elite women's Wanamaker Mile and concluding the night's competition with what has become a Millrose tradition: the elite men's Wanamaker Mile.
The first event, the high school girls Mile, was a rather desultory race, as Catherine Pagano of Northern Highlands, NJ led virtually wire-to-wire en route to a 4:50.66 win, the only whiff of excitement coming when Olivia Sargent mounted a last-lap sprint that moved her from fourth to second but left her half a second short of the victory.
The high school boys race, which followed 90 minutes later, was the exact opposite, as a pack of some half a dozen of the nation's finest scholastic middle distance runners took turns leading and forcing the pace before James Burke, a senior from Long Island's Port Jefferson High School, made a decisive move to the front and used a 28-second last 200 meters to hold off a challenge from fellow New Yorkers Jeremy Spiezio and Mike Brannigan. Burke's time of 4:11.25 was a school record, bettering his time for the shorter 1600 meters usually contested at the high school level.
"It definitely feels great to do it in a full Mile," Burke said. "There's a magic and prestige to that distance."
The excitement from that race had barely subsided when the elite women took to the banked Armory oval for the Wanamaker Mile. Although meet director Ray Flynn, himself a great 4-lapper more than 25 years ago, had assembled a strong field, the race was generally considered to be Shannon Rowbury's to lose, given the stellar form she'd displayed in running a world leading 4:22.66 on a flat track in North Carolina. Besides victory, Rowbury had her sights set on Mary Slaney's 1982 U.S. indoor record of 4:20:5, and the two-time U.S. Olympian followed the rabbit through opening quarter mile splits of 63 and 67.
"That didn't seem like it was too fast, but it must have been a little too aggressive," she opined later. The proof of that statement came in the final yards of the race, when Rowbury stumbled and almost fell, finally crossing the finish in a herky-jerky jog. "No injury, no cramp," she assured everyone. "The elephant just jumped on me the last lap."
Rowbury, 30, still beat Treniere Moser by more than three seconds, but was disappointed in her 4:24.32 clocking. "It was pretty much my last chance to get the record this season," she said. "I might run nationals next month, but right now it's undecided."
A few relays gave everyone time to settle down and prepare for the feature race of the evening, the storied men's Wanamaker Mile. The field was one of the best assembled since the heyday of the meet back in the 1980s; indeed, Bernard Lagat, who had won a record eight Wanamaker titles, called it the best he'd ever faced, almost Olympic caliber. Besides Lagat, now 40, who would be gunning for Eamonn Coghlan's 3:58.15 Masters world record set indoors in 1994, the race brought together two runners who had starred in Boston last week at the New Balance Indoor Grand Prix: Matthew Centrowitz, who had cruised to an impressive 2:17.00 meet record win in the 1000 meters, and fellow Olympian Nick Willis, whose racing savvy and perfect tactical execution resulted in a New Zealand indoor record 3:51.61, looking as effortless as anyone could running that rapidly.
In the days leading up to the meet, Centrowitz, 25, had watched replays of Coghlan's 3:49.78 indoor world record set at the 1983 Vitalis Invitational in New Jersey. "I really noted how he kept pushing the pace after the rabbit dropped out," he said. Centrowitz proved a quick and apt study, doing just that after being towed through halfway in 1:56. Meanwhile, Willis sat patiently some 10 meters back; after all, he'd overcome a similar deficit last week in Boston.
But this time he had a more formidable and determined foe to overtake. The Kiwi erased most of the two-time World Championships 1500m medalist's margin with two laps to go, and following the bell, shifted gears on the backstretch to try to get by, a reprise of his successful tactic from Boston. But Centrowitz surprised him by finding another gear of his own to hold off Willis and force him to run wide around the final turn.
"When Willis came up on me I knew if I let him by me, it was game over," Centrowitz recounted post-race. "I was pretty much all out to fight him to the corner; at that point it was whoever could hold on."
"Normally the person in front doesn't have that extra gear when you get to them," said Willis, the 2008 Olympic 1500m silver medalist. "When I went, he was able to give it a little extra. It shows his ability."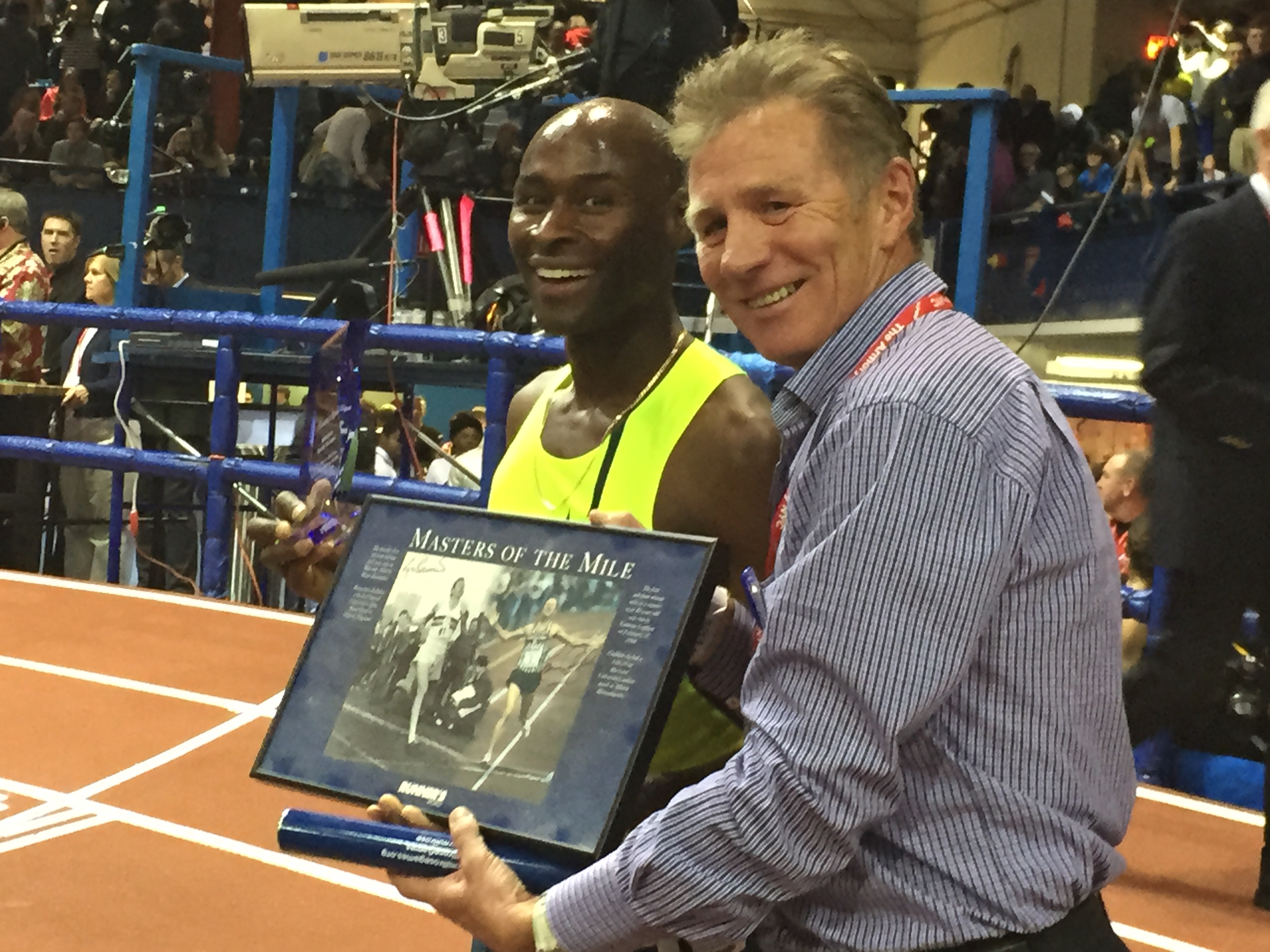 The end result was Centrowitz's second Wanamaker victory in three tries, his beam breaking and world leading 3:51.35 just .11 ahead of Willis, who broke his one-week old New Zealand record, and .01 away from Centro's 2013 winning time and indoor personal record.
A bit more than three seconds later, the evergreen Lagat (left with Eamonn Coghlan) crossed the line in 3:54.91, the fastest Mile ever run by an athlete 40 & older, indoors or out (an absolute Masters world record). "Eamonn told me twice before the race I was going to run 3:54, and he was right. He has been so supportive."
To cap the night of Mile magic in Gotham, John Gregorek, Jr., who finished 10th in 3:57.47, joined his father in the sub-4 club, and moreover, they became the 9th father / son combo to enter an even more rarefied sub-4 group.
108th Millrose Games: Wanamaker Mile
New York, NY, Saturday, February 14, 2015
MEN
1) Matthew Centrowitz (OR), 3:51.35
2) Nick Willis (NZL), 3:51.46#
3) Patrick Casey (OR), 3:54.36
4) Bernard Lagat, 40, (AZ), 3:54.91*
5) Evan Jager (OR), 3:55.25
6) Chris O'Hare (GBR), 3:55:35
7) Leo Manzano (TX), 3:56.05
8) Edward Cheserek (OR), 3:56.43
9) Lawi Lalang (KEN), 3:57.15
10) John Gregorek, Jr. (OR), 3:57.47
11) Kyle Merber (NY), 4:05.96
12) Will Leer (CA), 4:10.21
DNF, Mark Wieczorek (WA), pace
# = New Zealand indoor record (previous record, 3:51.61, Nick Willis, Boston, MA, 02/07/15)
* = Masters (40 & older) world and U.S. records (previous world record, 3:58.15, Eamonn Coghlan (41, IRL), Cambridge, MA USA, 02/20/94, and previous U.S. records, 4:11.00 (indoors), Bill Stewart (40, MI), 01/22/83 and 4:04.98 (outdoors), Jim Sorensen (40, CA), Lisle, IL, 07/06/07)
WOMEN
1) Shannon Rowbury (OR), 4:24.32
2) Treniere Moser (OR), 4:27.49
3) Stephanie Charnigo (NJ), 4:28.02
4) Jordan Hasay (OR), 4:28.27
5) Morgan Uceny (MA), 4:29.39
6) Heather Kampf (MN), 4:30.07
7) Shelby Houlihan (AZ), 4:30.77
8) Mary Cain (OR), 4:31.31
9) Rosie Clarke (GBR), 4:31.78
DNF, Melissa Salerno (SC), pace