Centrowitz, Martinez Cap Year with Fifth Avenue Mile Titles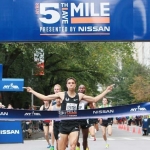 September 22, 2012
At 32nd edition, more than 5,400 finishers in age group heats race the iconic distance down the famed thoroughfare
By Jim Gerweck, The Mile wire
NEW YORK – (September 22, 2012) – For years, Bernard Lagat has dominated Mile races on the indoor track of New York City, his eight consecutive Wanamaker Mile titles at the Millrose Games allowing him to appropriate the "Chairman of the Boards" title from Eamonn Coghlan.
Lagat's string was broken this winter by a young upstart, Matthew Centrowitz, and on Saturday on the Big Apple's famed Fifth Avenue, the 22-year-old Centrowitz bested Lagat, 15 years his senior, again, defeating the defending champion with a well-timed and unanswerable kick in the last 50 yards of the race, after Lagat seemed to have made the winning move with 100 to go.
"I love coming to New York," said Centrowitz, who parents both grew up in the area. "I came here twice this year and I'm 2-0. I'd like to come to New York a lot more in the future."
Centrowitz, who finished fourth in the London Olympic 1500 meters this summer, became only the second man to win both Wanamaker and Fifth Avenue, the bookends of the racing season, in the same year. Spain's Isaac Viciosa was the last man to turn the trick, 15 years ago.
The men's pack went through fairly even 60-second quarter mile splits, and just after the ¾ mark David Torrence, who won the Falmouth Mile in August, made a strong move to the front to try and take the victory with a long finishing drive. Just past the 1500m mark, Lagat made his move, perhaps a bit farther out than he would have desired.
"I knew that someone, either Leo or Matt, was going to come," said Lagat, who moved up to the 5000m in London and finished fourth. "I wanted to give my best and run hard that last 100 because if I left it to 20 meters like normal I thought I might not have a good shot at it. I started pushing at 100 to go because I knew these two gentlemen would be in pursuit, and that's what happened. You take a risk that you might not be able to respond if someone catches you. With 50 meters to go, a great miler just passed me."




"Being my first road mile, I didn't really feel comfortable the whole way," said Centrowitz, who had lurked in Lagat's slipstream for most of the race. "There is no doubt about it, I was definitely keying off Bernard. Early on, I tried sitting off his shoulder a little bit. I knew that late in the race someone was going to make a strong push. They weren't going to leave it to inside the last 100. It ended up being Bernard and I just went when I felt like it was right."


Centrowitz, the 2011 World 1500m bronze medalist, crossed the line in 3 minutes, 52.4 seconds, lowering his PR from the 3:53.92 set at Millrose, his half-second margin enough to allow him to spread his arms in victory as he hit the tape. Centrowitz' London teammate, 1500m silver medalist Leo Manzano, was third in 3:53.1.
Youth was also served in the women's pro race that preceded the men, as 25-year-old Brenda Martinez (right, credit NYRR), whose 4:26.76 PR, set in winning Falmouth, made her the world leader in the distance. After 20 blocks of racing down Fifth Avenue, she still held that distinction, albeit with a new PR of 4:24.2, good for a 0.7 margin over Anna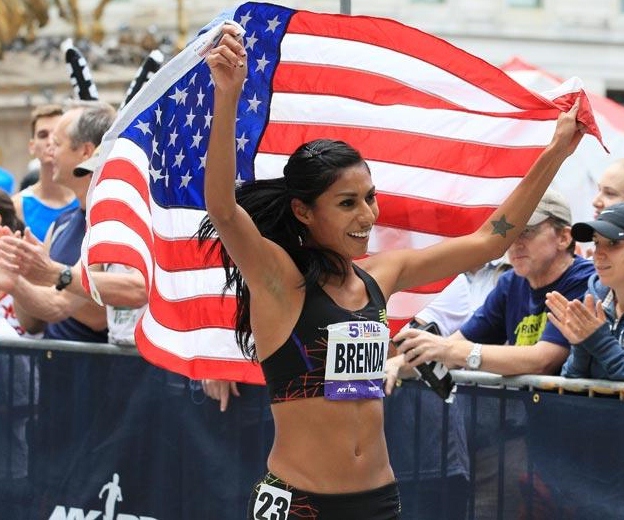 Pierce (4:24.9, also a PR). Her win here, coming on the heels of a victory in last week's Great North City Games road Mile in England, have gave her a great sense of confidence in not playing her cards until the finish is in sight.
"My coaches have taught me that for the 1500m or the mile to just be patient, never take the lead and kind of let everyone else do the work," she said. "I feel like I matured a lot this year and learned to be patient and to just get into a rhythm, be comfortable and when it is time to go be ready."
Today, that point came with the race was in its final eighth. 

"I wanted to wait until 200 meters to go," said Martinez, who was last when she debuted here in 2010 and placed ninth here last year. "I felt very good so around that time is when I started to drop my head, pump my arms and kick for my life.
"That win in Newcastle was really good for me," she continued. "

I came in confident. When it comes to courses, hills, wind, that doesn't really matter. Everyone was still running hard. I just tried to have fun in the race and I did that today."
At the 32nd edition, overall, 14 men broke 4 minutes and 10 women bettered 4:30 for the Mile. While two professional races were the highlight of the day, they certainly were not the limit of Mile racing on Fifth Avenue today. Beginning some four hours before the pros, Open runners competed in a dozen age group heats, some of which approached 1,000 in size. Before the day was done more than 5,400 men and women raced, ran or jogged the 80 blocks south from the Metropolitan Museum, proving that when it comes to the roads in New York City, the marathon may be king, but the Mile is not far behind.
32nd NYRR Fifth Avenue Mile
New York, NY, Saturday, September 22, 2012
MEN
1) Matthew Centrowitz (USA / OR), 3:52.4, $5000
2) Bernard Lagat (USA / AZ), 3:52.9, $3500
3) Leo Manzano (USA / TX), 3:53.1, $2500
4) Craig Huffer (AUS), 3:53.5, $1500
5) Ryan Gregson (AUS), 3:53.7, $1000
6) David Torrence (USA / CA), 3:53.8, $750
7) Craig Miller (USA / WI), 3:54.2, $500
8) Elliott Heath (USA / CA), 3:54.3, $250
9) Garrett Heath (USA / CA), 3:54.4
10) Jordan McNamara (USA / OR), 3:56.5
11) AJ Acosta (USA / OR), 3:57.7
12) Haron Lagat (KEN), 3:58.4, $1000*
13) Donn Cabral (USA / CT), 3:59.1
14) Cam Levins (CAN), 3:59.1
15) Liam Boylan-Pett (USA / DC), 4:04.8
*halfway leader prime bonus
WOMEN
1) Brenda Martinez (USA / CA), 4:24.2, $5000
2) Anna Pierce (USA / CA), 4:24.9, $3500
3) Hannah England (GBR), 4:26.0, $2500
4) Gabriele Anderson (USA / MN), 4:26.5, $1500
5) Shannon Rowbury (USA / CA), 4:27.0, $1000
6) Heather Kampf (USA / MN), 4:27.8, $750
7) Julia Bleasdale (GBR), 4:28.8, $1500*
8) Chelsea Reilly (USA / CA), 4:29.0, $250
9) Eilish McColgan (GBR), 4:29.7
10) Jenny Simpson (USA / CO), 4:29.9
11) Sarah Bowman (USA / TN), 4:30.3
12) Liz Maloy (USA / DC), 4:30.3
13) Barbara Parker (GBR), 4:34.9
*includes $1000 halfway leader prime
Complete race results and more at: nyrr.org