Cabral Comes to NYRR Wanamaker on a Mile High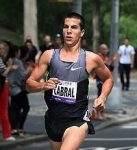 February 13, 2013
By Barbara Huebner, NYRR News Service
Donn Cabral was a track star at Connecticut's Glastonbury High School, about two hours northeast of New York City. After that, he was a track star at New Jersey's Princeton University, about an hour southwest. Never all that far from the Millrose Games, but never quite close enough, either.
He's only been to the meet once. As a fan. Who would have much rather been racing than watching.
When Cabral lines up Saturday night at 9:50 p.m. for the NYRR Wanamaker Mile, the signature event of the 106th Millrose Games, the wait will be over, and the timing is as good as it gets. Not only will he be competing at a venue where he's enjoyed huge success, but he's also coming off his first sub-four-minute Mile, set just last weekend.
Continue reading at: nyrr.org