Blankenship wins Minnesota Mile with a heavy heart, fast feet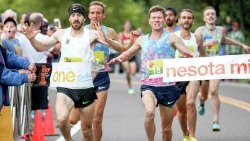 September 07, 2017
Kampf captures women's race also in blanket finish; 4th stop on the Bring Back the Mile Grand Prix Tour 2017; finale on Sunday, October 1 at The Navy Mile in Washington, DC
By Louie St. George, Duluth News-Tribune
Just before he arrived back in the United States last week from the IAAF World Challenge in Zagreb, Croatia, Ben Blankenship's grandmother passed away.
"She was having a little bit of trouble, and I was really hoping to get home before it happened," Blankenship said.
Barbara Feyereisen died Aug. 30. She was 84.
Blankenship was a pallbearer at her funeral Tuesday in Crystal, Minn. On Thursday evening, the former Stillwater High School state champion, University of Minnesota All-American and 2016 Rio Summer Olympian was back in Duluth for the Minnesota Mile. Buoyed by family, including his grandfather, Francis Feyereisen, who was married to Barbara for nearly 67 years, Blankenship surged to victory in 4 minutes, 7 seconds, edging Trevor Dunbar, Riley Masters and Patrick Casey at the finish line, all timed in 4:08.
"She was a really big influence throughout my life, really big supporter of mine," the 28-year-old said. "She came to almost all my high school races, any local races that I was in, so it's been a really tough week.
"It was really nice to have my grandpa up here and have his support."
Thursday's win gives Blankenship his second course record at the Grandma's Marathon-sponsored Minnesota Mile, the 4th stop on the Bring Back the Mile Grand Prix Tour 2017. He held the fastest time on the previous course, along Superior Street in downtown Duluth, at 3:52.7 — the fastest Mile ever recorded in Minnesota. This time around, he set the record by default as the event debuted a new location by Enger Park on Skyline Parkway and Hank Jensen Drive.
Continue reading at: duluthnewstribune.com
11th Minnesota Mile
BBTM Grand Prix Tour 2017 fourth stop
Duluth, MN, Thursday evening, September 7, 2017
MEN
1) Ben Blankenship (OR), 4:07, $2500
2) Trevor Dunbar (OR), 4:08, $1800
3) Riley Masters (CO), 4:08, $1200
4) Patrick Casey (OR), 4:08, $900
5) Daniel Herrera (OR), 4:09, $800
6) Eric Avila (OR), 4:09, $600
7) Jack Bolas (NC), 4:12, $400
8) Elisha Kiproto (KEN), 4:13, $300
9) Emmanuel Bor (KEN), 4:13
10) Sammy Rotich (KEN), 4:17
MASTERS MEN (40 & Older)
1) Matt Thull, 42, WI, 4:58, $500
WOMEN
1) Heather Kampf (MN), 4:42, $2500
2) Monicah Ngige (KEN), 4:42, $1800
3) Rachel Schneider (DC), 4:43, $1200
4) Iveen Chepkemoi (KEN), 4:44, $900
5) Sara Sutherland (CO), 4:46, $800
6) Natalja Piliusina (LTU), 4:49, $600
7) Maddie Van Beek (ND), 4:51, $400
8) Eglay Nalyanya (KEN), 4:53, $300
9) Maddie Alm (CO), 4:54
10) Diana Kipyoke (KEN), 4:55
MASTERS WOMEN (40 & Older)
1) Melissa Gacek, 41, MN, 5:46, $500
For complete race results, go to: grandmasmarathon.com
Local TV station video clip with pro race finishes HERE.