Blankenship, Lipari Win 6th GNC Live Well Liberty Mile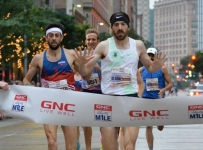 July 28, 2017
Overcast skies and the threat of a downpour fueled athletes to run faster and stronger; sixth edition offered $30,000 prize purse presented by GNC; third stop on BBTM Grand Prix Tour 2017
From P3R
PITTSBURGH – (July 28, 2017) – At the 6th GNC Live Well Liberty Mile on Friday evening, runners navigated wet streets and outran a downpour towards Mile glory and a $30,000 prize purse. Ben Blankenship and Emily Lipari won their American Development Pro races in 4 minutes, 5 seconds and 4:35, respectively. Blankenship, 27, defended his title after winning last year's race in 4:02, while rising star Lipari, 24, claimed her first crown at her third appearance in The City of Champions.
At the turn onto Liberty Ave, around the halfway mark, Blankenship was in fourth place, tailing Eric Avila, Colby Alexander and Pat Casey. Over the last 500 meters, Blankenship moved from fourth place to first, outpacing the competition to the finish line. Kyle Merber and Riley Masters finished closely behind in second and third, less than a second behind Blankenship's winning time.
"My race went really well tonight," said Blankenship, a 2016 Rio Olympian who lives in Eugene, Ore. "Actually, it was extremely exciting because of ominous weather and the chance to race before the storm came in. Because of the wind, I knew I had to be patient and wait until the last 200 or 400 meters before I kicked."
The women's American Development Pro Mile was just as thrilling. For most of the race, Stephanie Garcia, Hannah Fields, Stephanie Brown, Lauren Johnson and four-time race champion Heather Kampf led the pack. With less than 200 meters to go, Lipari, last year's runner-up, passed the top five runners, finishing with a burst of speed for the victory, while Johnson, her B.A.A. Elite teammate, placed second in 4:36 with Fields in third also at 4:36.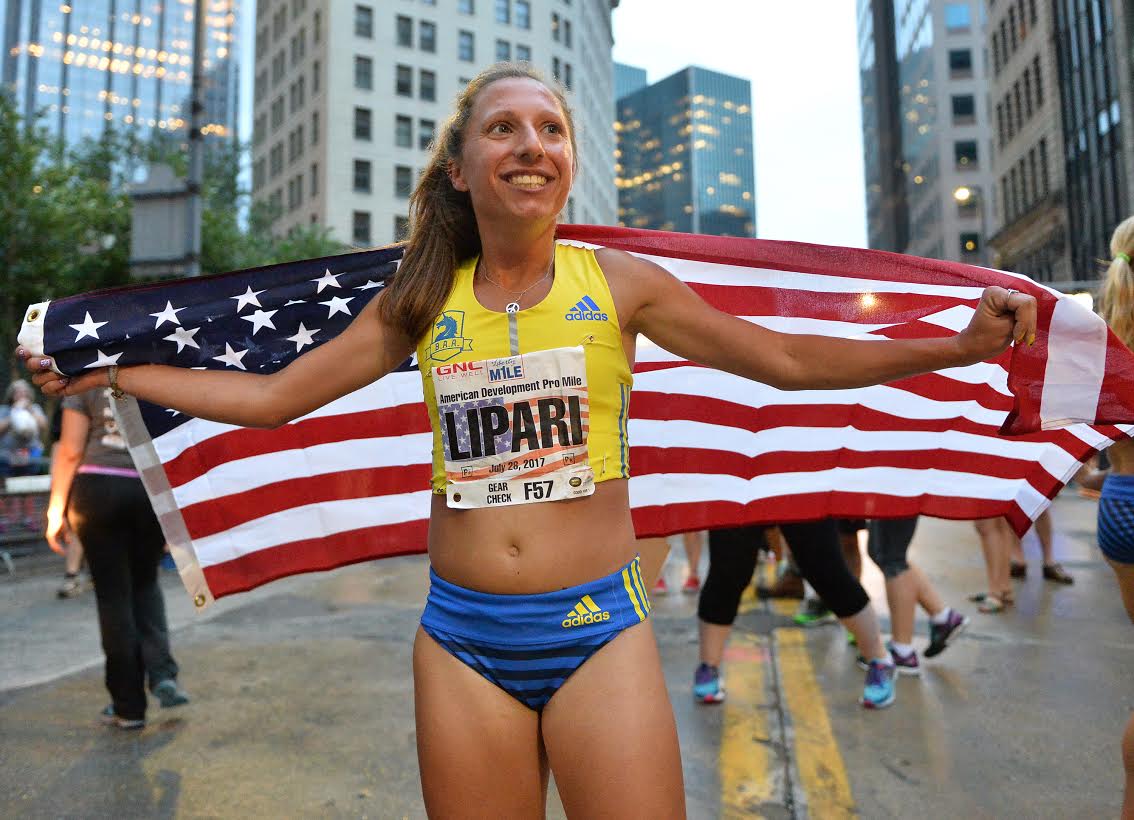 "I have always had a blast coming to Pittsburgh," said Lipari (left), a Boston resident. "After being a little disappointed with my European races, I'm happy to be able to out here and chase the win. The city gets so excited to come out and watch the elites. This was an incredibly deep field and to be able to compete with these women makes it fun to keep coming back!"
Blankenship and Lipari earned $5000 each as the GNC Live Well Liberty Mile champions.
"We are proud to sponsor the Liberty Mile and are thrilled that it continues to attract the best American runners of all ages and abilities," said Bob Moran, GNC CEO. "At GNC, our focus every day is to provide products that help our customers Live Well and it's exciting to be a part of events that not only bring the community together, but also promote and encourage healthy lifestyles."
The Masters champions, 40 & older, were Charles Novak, 49, Cuyahoga Falls, OH and Renee Tolan, 42, Clifton Park, NY in 4:45 and 5:21, respectively; each took home $500.
The GNC Live Well Liberty Mile, the fastest road Mile in Pennsylvania, offered the second largest guaranteed Mile prize purse in the U.S.
The Liberty Mile was also the third stop on the Bring Back the Mile Grand Prix Tour 2017. With her win, Emily Lipari holds the Tour's top spot with 20 points. For the men, Ben Blankenship sits atop the standings with 20 points, followed by defending Tour champion Riley Masters in second with 14 points.
The next BBTM GP Tour stop is the Minnesota Mile in Duluth, MN on Thursday, September 7 followed by the finale, The Navy Mile on Sunday, October 1 in Washington, DC. The total prize purse for the five Tour events exceeds $100,000 plus $10,000 for the Grand Prix purse. Per Tour event, per gender, top 6 will score points (10, 8, 6, 4, 2 and 1) with the top 4 Grand Prix scorers earning GP money ($2500, $1000, $750 and $500) plus a $250 bonus for the Tour Performance-of-the-Year will be awarded per gender.
6th GNC Live Well Liberty Mile
Bring Back the Mile Grand Prix Tour 2017: Third Stop
Pittsburgh, PA, Friday, July 28, 2017
MEN
1) Ben Blankenship (OR), 4:05, $5000
2) Kyle Merber (NY), 4:06, $3000
3) Riley Masters (CO), 4:06, $2000
4) Jake Edwards (OH), 4:06, $1000
5) Daniel Herrera (OR), 4:07, $750
6) Pat Casey (OR), 4:07, $500
7) Colby Alexander (NY), 4:08, $250
8) Eric Avila (OR), 4:10
9) Brannon Kidder (WA), 4:13
10) Chad Noelle (SC), 4:20
WOMEN
1) Emily Lipari (MA), 4:35, $5000
2) Lauren Johnson (IN), 4:36, $3000
3) Hannah Fields (WA), 4:36, $2000
4) Heather Kampf (MN), 4:39, $1000
5) Stephanie Brown (MT), 4:39, $750
6) Stephanie Garcia (SC), 4:40, $500
7) Rachel Schneider (DC), 4:41, $250
8) Lianne Farber (CA), 4:45
9) Angel Piccirillo (PA), 4:49
10) Katrina Coogan (MA), 4:50
MASTERS (40 & older)
MEN
1) Charles Novak, 49, OH, 4:45, $500
WOMEN
1) Renee Tolan, 42, NY, 5:21, $500
For complete results and more, go to: LibertyMile.org