Birnbaum Leads Record HS Sub-4s at HOKA Festival of Miles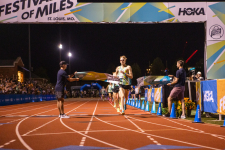 June 02, 2023
Matsatsa, Heidesch join HS Sub-4 Club; prep Tatum David runs swift 4:37.79 to finish 6th in women's Open race
By David Woods for DyeStat
ST. LOUIS – The first night of June resembled one of those intimate summer meets in Europe in which the whole town turns out. Maybe this wasn't the Diamond League. But in terms of ambiance and achievement, the HOKA Festival of Miles was a jewel.
For the first time, four high school boys ran a Mile in less than 4 minutes in the same race.
Simeon Birnbaum, a consistent fast finisher from Rapid City Stevens High in South Dakota, ran the closing 400 meters Thursday in 57.68 to win in 3:57.53. Rocky Hansen of Christ School NC was second in 3:58.23. Both had run sub-4 before.
The 19th and 20th members of the high school Sub-4 Club were Tinoda Matsatsa of St. Andrew's Episcopal MD, third in 3:58.70, and Jackson Heidesch of Dowling Catholic IA, fourth in 3:59.08. Tayson Echohawk of Orem UT was fifth in 4:01.07.
At St. Louis University High, where temperatures were in the 80s and humidity less than 50 percent, there were all the elements of track-as-entertainment. There was a fan plaza, live and taped music, rhythmic drumming, flashing lights, packed stands, an ongoing buzz and kids lining up for autographs. There was even Diamond League regular Erik Sowinski as pacesetter for the boys Mile.
"To be a part of this, in this atmosphere, I never thought I'd be a part of a high school race again in my career," Sowinski said. "To be able to come back at 33 and do this, it's pretty special."
The top five boys also broke their respective state records. Previous meet record was 3:57.89 by Gary Martin of Archbishop Wood PA last year.
Birnbaum climbed to #4 on the all-time high school list behind Alan Webb, 3:53.43 in 2001; Jim Ryun, 3:55.3 in 1965, and Colin Sahlman, 3:56.24 in 2022. Outdoors, Hansen became #6, Matsatsa #7 and Heidesch #10.
Birnbaum, unbeaten outdoors in races ranging from 400 meters to 2 miles across four states, said he "got shot straight to the back" and didn't run the Mile as designed.
"So I just focused on racing," he said. "I looked at the clock with a lap to go. 'Oh my gosh, we've got to get going.' So I started running hard. I'm so happy with the win, but I'm not satisfied."
Eight high schoolers have run sub-4 in the past two years (15 since the 2012 launch of Bring Back the Mile). Hansen suggested it can be "super toxic" for runners to compare themselves to others, but he added high schoolers are starting to see sub-4 as no barrier.
"Because it's not. We're all capable of doing this," Hansen said. "We can all do great things if we work together. I'm very happy people are starting to realize that and push past what we thought was possible."
Continue reading at: dyestat.com
U.S. High School Sub-4 History lists HERE.
Full race video HERE.