Beach Vacation Set Manzano on Course for Second Olympic Appearance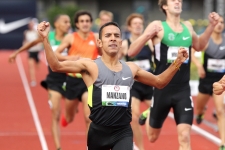 July 26, 2012
"I know if I'm in the right place at the right time I have a good chance here, to finish in the top three or top five."
By David Monti, (c) 2012 Race Results Weekly, all rights reserved
TEDDINGTON, England – (July 26, 2012) – When Leo Manzano left the track at the IAAF World Championships in Daegu last summer after finishing last in his semi-final of the 1500m, he was limping badly and had a huge ice bag lashed to the back of his left thigh. His ailing hamstring, which had bothered him for much of the year, had betrayed him. At first he was determined to rehab it aggressively, but he soon realized that the pain was more than in his leg.
"That was pretty painful, not just physically but mentally," he said in an interview here with Race Results Weekly two days ago. He continued: "I did try to rehab it after the World Championships for two or three weeks. I didn't just give up but, you know, the season's over. You know, what else am I going to do?"
Manzano, 27, the 2012 U.S. Olympic Trials champion, didn't so much throw in the towel, but decided to lie on one, instead.
"The first thing I had to do was just kind of back away from the sport," said Manzano, who grew up in Marble Falls, Texas. "I literally got away. I got away for an entire a month, something I had literally never done in my life before. He continued: "I didn't do any running. I went to Costa Rica for about two weeks, and just kind of hung out in Costa Rica and didn't do much. I just kind of just hung out and sat on the beach."
Slowly, Manzano felt like himself again. His leg felt better, but more importantly the desire to train and compete started to come back. "Looking back, that break was huge for me," he said. "When I came back, there was definitely a different fire, a different feeling: I wanted to start training again."
Manzano did his usual winter training in Mexico with his coach, John Cook, and the Austin Track Club. He started to get into good form, and opened his indoor season last February in Fayetteville, Ark., with a 3:57.92 Mile, a solid start. Two weeks later, he won the USA Indoor title at 1500m for the second time in Albuquerque, beating World Championships bronze medalist and Olympic teammate Matthew Centrowitz by running 26.74 seconds for the final 200 meters (at high altitude). Manzano was back.
"I really didn't know what to expect," Manzano said of the indoor meet. "My training at that point had just been superb. We hadn't even really gotten on the track yet, just more or less a lot of strength, a lot of strength work, mostly tempos."
Manzano's outdoor season progressed well, from beating Bernard Lagat on the last leg of the distance medley relay at the Penn Relays, to running a 3:53.07 Mile at the Prefontaine Classic, and then winning at the Trials over Centrowitz by running the last 400 meters in 53.08 seconds. That stinging kick has always been Manzano's best competitive tool, but he said that he can't afford to rely on it too much like he did when he competed in the NCAA ranks for the University of Texas.
"Back in the day, in my college days or a year or two after, that (thought) was kind of there," he said. "Not at this point. I mean, it's the World Championships, it's the Olympics: you can't do that. You've got to give it your all."
Manzano, whose father operates a stone crushing machine at a mine in Marble Falls, feels that he can run to a high finish at the London Games, provided he pays close attention to his positioning. He's confident in his 52-second closing speed, but has to be in the right place in order to use it.
"Positioning, that's the biggest thing," he reasoned. "I know if I'm in the right place at the right time I have a good chance here, to finish in the top three or top five."