Bangor running star Riley Masters retires from pro career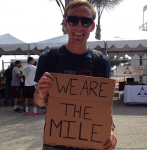 March 27, 2021
"Winning state titles when I was at Bangor, breaking 4 minutes when I was at the University of Maine and then winning the U.S. road championship are probably the three highlights of my career..."
By Ernie Clark, Bangor Daily News
Riley Masters opted for a subtle approach to make the public aware that he has retired from professional running.
A change of status on various social media platforms was enough to do the trick for the former Bangor High School and University of Maine distance standout.
"I just decided to hang it up," said the 30-year-old Masters. "I hadn't made a formal announcement or anything but I had surgery last June and just decided to call it quits for now."
Masters also starred at the University of Oklahoma before embarking on an eight-year pro career that included two U.S. Olympic Trials and winning the 2018 USA Road Mile Championship as well as the 2016 BBTM Grand Prix Tour title.
"There's a chance I go back and maybe run some marathons at some point, but I wanted to dive into my next career at this point," he said. "I hadn't really made a formal announcement but just changed my status on Linkedin and my social media accounts and told my agent and Nike that I was done."
Masters' running career was put on hold in 2020 by the coronavirus pandemic and the postponement of that year's U.S. Olympic Trials and the Summer Olympics in Tokyo. That led him to have surgery to remove a Haglund's deformity, a bony bump that forms where the Achilles tendon attaches to the heel.
"It was pretty bad," Masters said. "I'd been running over 100 miles a week for a year and a half and I was fairly compromised just trying to get ready for the 2020 Olympic Trials. Then when COVID shut everything down it opened the window to get surgery, but I knew it was going to be difficult to come back from that."
By late summer, he knew that he was physically unable to train at the required level.
"I realized I wasn't going to be able to get the training in that was necessary to make the team," he said.
Continue reading at: bangordailynews.com