A Scintillating Match-Up at Millrose: Mary Cain Versus Alexa Efraimson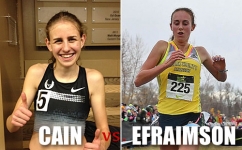 February 12, 2014
What to expect when the two teens meet in the elite women's Wanamaker Mile on Saturday.
By Marc Bloom, Running Times
Anyone who watched Mary Cain win the New Balance 1000m in Boston last Saturday has to wonder what Alexa Efraimson was thinking about that performance. Efraimson will be making her New York Armory and Millrose Games debut on Saturday against Cain in the women's Wanamaker Mile.
Is Efraimson, the 16-year-old high school junior from Camas, Wash., in dreamland at the prospect of racing Cain, the 17-year-old high school senior, and seasoned professional, from Bronxville, N.Y? After all, if Cain can knock out a 4:20, breaking Mary Slaney's 32-year-old American indoor record (4:20.50), Efraimson could be pulled along to, say, a possible 4:28—the same time Cain ran last year at Millrose when she was 16.
Or is Efraimson thinking, "What am I up against?"
With Cain's 2:35.80 1,000m on Saturday, which improved her world junior indoor record by almost 4 seconds and came within 1.61 seconds of the U.S. mark, she demonstrated 4:20 capability for Millrose. Cain competed with the utter command and precocious track savvy she's become known for, and she whipped off her last 200m in 31.7. It's hard to imagine that an opening half in something like 2:10 at the Armory would do her much damage.
But as remarkable as it may seem, Efraimson stacks up pretty well versus Cain. The only time they've raced was in December 2012, at Nike Cross Nationals in Portland, Ore. Cain, then a high school junior, had just started working with Alberto Salazar and the Nike Oregon Project. She placed second in the muddy 5K to Sarah Baxter of California. Efraimson, then a sophomore, took fourth, 13 seconds behind Cain. Given their age difference, let's call it a draw, especially because Efraimson defeated Baxter last December to win NXN 2013.
Continue reading at: www.runningtimes.com