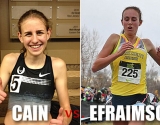 February 12, 2014
What to expect when the two teens meet in the elite women's Wanamaker Mile on Saturday.
By Marc Bloom, Running Times
Anyone who watched Mary Cain win the New Balance 1000m in Boston last Saturday has to wonder what Alexa Efraimson was thinking about that performance. Efraimson will be making...
Read More
comments