A Relay World Record, PRs and More for Kyle Merber in 2017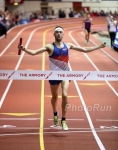 February 23, 2017
"A lot of coaches can just get you in shape. It takes a special coach to get you to believe."
By Sabrina Yohannes, RunBlogRun
If his trademark headbands help you to locate Kyle Merber in a crowded race, you are not alone.
"It's easy for my mom to follow me," the native New Yorker Merber told RunBlogRun on Friday, February 17 about his signature headwear. "I've been wearing headbands since high school. It's kind of like my 'Now it's time to race' thing. I don't wear them during practice. It's just race day, you put it on, and you know it's time to go."
It was go time at 7:45pm Friday in the New Balance Track & Field Center at the Armory in Manhattan, where Merber anchored his HOKA New Jersey New York Track Club team to a new indoor 4 x Mile relay world record of 16:12.81, erasing the 1993 mark of 16:16.67. [NOTE: Technically, the mark is considered a world best as track's international governing body, the IAAF, does not maintain world records for this relay.]
Continue reading at: www.runblogrun.com