4 Minutes with a Miler: AJ Acosta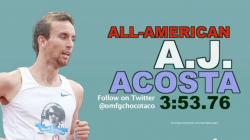 August 14, 2012
Bring Back the Mile's podcast series, 4 Minutes with a Miler, speaks to 8-time NCAA All-American and 3:53.76 Miler, AJ Acosta. A University of Oregon graduate, AJ and his Nation will toe the line as the top seed at the inaugural GNC Live Well Liberty Mile in downtown Pittsburgh. In addition to his collegiate accolades, AJ was the 2005 High School Cross Country Footlocker Champion out of El Camino HS (CA). The interview is hosted by Duncan Larkin with the audio available below and through the iTunes store, in addition to the complete transcript below.
Complete Transcript
Hey Mile Maniacs this is Duncan Larkin with Bring Back the Mile. For today's installment of Four Minutes with a Miler, we are joined by champion Miler, AJ Acosta. AJ, thanks for joining us.
AJ Aocsta: Yeah, thank you so much for having me.
So you have the GNC Live Well Liberty Mile in Pittsburgh next week. How are you feeling going into that inaugural race?
Yeah I'm feeling pretty good. I've never been to Pittsburgh, but it looks like the course is going to be fun and fast. There are a lot of good competitors out there, so I'm really looking forward to getting out there and seeing what I can do for this inaugural event.
You are seeded as #2, but you have the same personal best time as a Kenyan, Richard Kandie (ed. note - Kandie is no longer racing). Are you feeling any pressure to perform—to win the thing for the U.S.?
Any time you get into a race like this, it's not about doing this for the U.S. unless you are at the Olympics or anything like that, but anytime you go into a race you want to get as many scalps as you can. The world of road racing, there is prize money on the line. There's a big difference between getting first and second place. It can be the difference of going out and finding a part-time job or just going and focusing solely on training for the next couple months. That will be on the back of my mind, but I just want to get out there and try and do the best that I can. I just want to put myself into a position where I can win. That's what I will be focused on.
You mentioned being on a U.S. team in the Olympics. Did you, by any chance, watch Manzano's medal performance in the 1500m?
I did get a chance to see that. I'm looking forward to seeing him get a future gold medal and Matthew [Centrowitz] getting a future bronze medal. It's definitely an exciting time.
Yeah, does that inspire you as a Miler to get out there? Is the bar now raised? Did you draw any sort of inspiration from that race?
Definitely. I was a teammate of Matthew's for several years. He's very dedicated. I ran with him. The way those guys are running it definitely inspires confidence—that in the big races those guys can run wit the Kenyans or whoever else is on top of the game at the time, so I think what Galen [Rupp] did in the 10,000m and look forward to seeing what he can do in the 5[,000m]. So Galen, Matthew, Leo—all those efforts I think are like, "Hey, we can roll with these guys."
We've had this drought going back to 1968 for the [men's Olympic] 1500m. Do you feel like the U.S. is back in the Mile?
Yeah. One Olympics is a small sample size, but I think the trend in the Olympics has been with the increase in drug testing certain athletes there aren't as many people running under 3:30 as there used to be, so I think the spread between the U.S. guys and what everyone else is running is getting better and better. You know, we have guys running 3:32-3:33 and that's going to be among the world's best if not far off, so I think, going forward, the U.S. is going to have a strong presence in the distance and middle-distance events.
Going into the actual Mile. That sound of the bell lap—what does that actual sound mean to you?
You mean the "ding, ding, ding" sound? The ring of the bell?
Yeah.
I think always with 400[meters] to go you get that rush of adrenaline. You get that feeling that the finish line is in sight. You say, "400 to go, 400 to go". You have to suck it up one last time to get that second wind. It's an adrenaline rush, but you do have to remember that there are still 400 meters left. Sometimes it doesn't feel that far away, but it actually is. You have to contain it a little bit.
There are going to be Mile maniacs listening to this who are not as fast as you are, but they are out there training; they are out there working hard on the track and on the roads. What's one thing you can share with these folks about your own experiences with your training?
I think one of the biggest things is that the Mile is a tough race to run. You have to have that perfect blend of strength and speed, especially during the fall and winter months. It's important then to have a lot of base and do a lot of mileage with tempo-ish type runs, but also maintaining that speed aspect as well, so maybe you go and do a 5-mile threshold run in the morning and then come back in the afternoon and do 300s at Mile pace or right around there. That's kind of the staple of what we did in Oregon and what I continue to do today. As you progress later into the year, once you get closer to spring you mix it up. Maybe you do a little more speed, because you put in that work early on so you can maintain that base. That's kind of what we do. Every plan is different. There is more than one way to go up the mountain. I think that's because everyone comes from a different background. Leo [Manzano] obviously has different training than Lopez [Lomong]. And Lopez has different training than Matthew. And even Matthew and I have different training plan, so there are a lot of ways. There isn't necessarily one way. I think there's kind of not necessarily a cookie-cutter way to do it, but there's a basic training plan and then it kind of diverges from there.
Great. Well that's all the time we have for today's version of 4 Minutes with a Miler. Hey AJ, thanks a lot for being on the program and good luck next week in Pittsburgh.
Yeah, thanks again. I appreciate it.