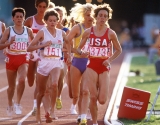 July 28, 2016
More than 30 years after their heyday on the track, Decker and Budd still hold national records for the Mile.
By Jason Henderson, The Guardian
For an arena that bills itself as "the greatest stadium in the world", the Los Angeles Coliseum is badly in need of a facelift. Large cracks caused by...
Read More
comments