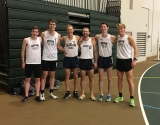 January 12, 2020
"I just ran out of time this year. I still do it because it's fun. I enjoyed being out there with the people who helped me get out there, even if I was hurting a bit. The camaraderie is why I still do it."
By Andrew Dawson, Runner's World
After 43 consecutive years of running a sub-5-minute...
Read More
comments