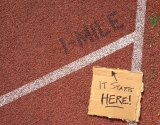 August 16, 2016
"The Mile is easy to explain to non-track people... Everyone understands a fast Mile."
By Oliver Staley, qz.com
Today (August 16) in Rio, some of the world's most talented runners will contest the 1500 meters.
That's too bad. They should be running the Mile instead.
The 1500 meters has...
Read More
comments